Who doesn't want smooth and young-looking skin? Gone are the days when the skincare regimen revolved just around the ladies. Men's skin is quite different when compared to women in terms of skin PH, collagen production, elasticity, or skin thickness.
Men have active sebaceous glands and therefore large numbers of pores on skin that clog easily.
The secretion of androgens in high amounts also makes the skin look oily. Oily skin is more prone to acne outbursts that can be mild, moderate, or in dire straits even severe ones.
Cleansing, Exfoliating, and Moisturizing the skin is the basic skincare routine for any skin type. Regular shaving of facial hair itself exfoliates the skin but restoring the moisture content is also very essential even for oily skin.
A good moisturizer does not add extra oil, in fact, it hydrates the skin and protects it from external factors such as pollution, dirt, sun exposure and aging.
The hard and fast rule for hydrating oily skin is to pick a moisturizer that is non-comedogenic, gel-based, oil-free and lightweight.
But, Don't stress out too much as with lots of research and testing, we have listed out ten best moisturizers for the macho in you!
The 10 Best Moisturizer for oily skin for Men
1. Neutrogena Hydro Boost Hyaluronic Acid Hydrating Face Moisturizer
If you have oily skin and have left no stone unturned to find the best moisturizer yet, then Neutrogena Hydro Boost Face Moisturizer is for you.
This moisturizer goes by its name as it is oil-free and is based on a unique gel-cream formula. The prime ingredient is Hyaluronic acid, naturally found on our skin, which locks the water on the skin, keeps it hydrates and provides long lasting suppleness to the skin.
Hyaluronic acid also helps reduce wrinkles, redness, and dermatitis, when applied on the surface of the skin. Another win-win here.
Pros
Dermatologist Recommended Brand
Non-comedogenic
Quick Absorption
Contents humectants like glycerin and hyaluronic acid
Light-Weight
Cons
Consistency is very thin.
2. Lather & Wood's Luxurious Sophisticated Mens Moisturizer
Lather & Wood's Luxurious Sophisticated Mens Moisturizer is the one with natural ingredients that hydrates the skin and gives it a non-greasy look.
Hyaluronic acid rejuvenates the skin without clogging any pores. The botanical antioxidants like Palm oil reduce the formation of free radicals on the skin and help reduce pigmentation and fine lines and wrinkles. Thus making it an All-in-one solution for skin problems.
Pros
Non-comedogenic
100% alcohol-free
Organic Ingredients
Refreshing Fragrance
Cons
3. The TruSkin Vitamin C Moisturizer For Men
The TruSkin Vitamin C Moisturizer is best for oily as well as combination skin. It is proficient in securing the moisture content and repairing minor wear and tears on the skin. The moisturizer is a perfect blend of Vitamin C, Vitamin B5, and potent antioxidants combined with MSM, Pure Organic Jojoba Oil, and Green Tea which helps in hydration, anti-aging as well as boosting overall skin appearance.
Pros
Brightens Skin Tone
Reverses sun-damage and removes spots
Paraben-Free
Suitable for Sensitive Skin.
Cons
Patch test recommended on skin 24 hours before regular application.
4. Dermalogica Calm Water Gel

This moisturizer's light-weight texture works effectively on oily skin. It easily dissolves in the skin and gives a dewy look and is not oleaginous. Most of the ingredients are Plant extracts mainly Apple Fruit Extract and Cactus Pear Extract which preserves the moisture content and soothes the skin for long hours. It can be used both as a day as well as night hydrator.
Pros
Dual Hyaluronic Acid technology
Consists of Silk amino acids.
Paraben-free
Suitable for very sensitive skin
Cons
Mild Medicated Fragrance
Expensive
5. Brickell Men's Daily Essential Face Moisturizer for Men
Brickell Men's Daily Essential Face Moisturizer is the go-to love for the oily skin which keeps it supple and hydrated without clogging the skin pores.
The essential and natural ingredients like Jojoba oil, Hyaluronic acid, Aloe, Vitamin E, and Green Tea melts into the skin very easily, make it look firm and protects it from external damage.
Pros
100% organic ingredients like Hyaluronic Acid & anti-aging antioxidants
Sulfate-free
Paraben-free
Pleasant Fragrance
Cons
6. Vichy Homme Hydra Mag C+ Face Moisturizer
Vichy Homme Hydra Mag C+ Face Moisturizer is the one with Dual Action. It has non-greasy texture and contains antioxidants like Pure Vitamin C and magnesium which protects the skin from free radicals, renews the skin, helps brighten skin, and provides hydration.
It also acts as an eye-cream along with your daily-care moisturizer.
Pros
Dermatologist Tested Brand
Paraben-Free
Contains Effective Natural Ingredients like Vichy Mineralizing Thermal Water
Easy Application
Suitable for Sensitive Skin
Cons
7. RUGGED & DAPPER Age Defense Face Moisturizer for Men
The organic ingredients of RUGGED & DAPPER Face Moisturizer make it rich in nutrients like active minerals and vitamins which do wonders for the skin. It not only helps the skin to restore moisture but also protects the skin against environmental damage and repairs dead skin cells.
Pros
Non-Comedogenic
Natural Ingredients like Hyaluronic Acid and Aloe Vera
Excellent Soothing and Healing Properties
Suitable for all skin types
Cons
8. MARLOWE. No. 123 Men's Facial Moisturizer
MARLOWE. No. 123 Men's Facial Moisturizer is one of its kind due to its unique composition of passionflower fruit, green tea, and willow bark extracts.
While the Passionflower extract, rich in Vitamin C and iron, regenerates the skin cells, the green tea extract, willow bark extract, and deep algae extract nourishes the skin and retains moisture.
Thus enriched with highly soothing ingredients, this water-based lotion provides natural anti-aging moisturizing effects and helps in reducing wrinkles and line fines.
Pros
Non-Comedogenic
Paraben-free
Phthalate-free
Affordable Price
Pleasant Fragrance, not feminine
Cons
Too thin texture, need to apply multiple times.
9. Clinique For Men™ Broad Spectrum SPF 21 Moisturizer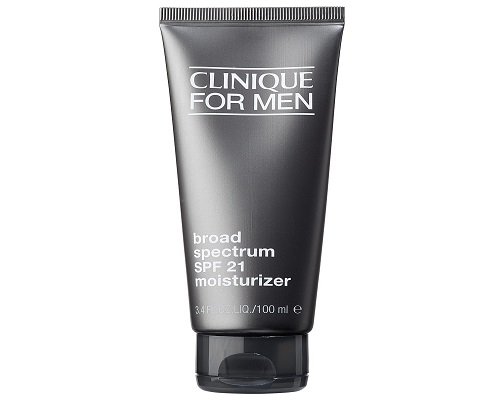 Clinique SPF 21 Moisturizer is the best for providing hydration to the skin along with decent sun protection. It works best for oily skin as it is light-weight, provides a non-greasy look to the skin and you don't even have to worry about breakouts.
Pros
Regular SPF with UVA/UVB protection
No Tint
Absorbs easily
Helps Reduce Skin pores
Affordable Price
Cons
10. CeraVe Facial Moisturizing Lotion AM SPF 30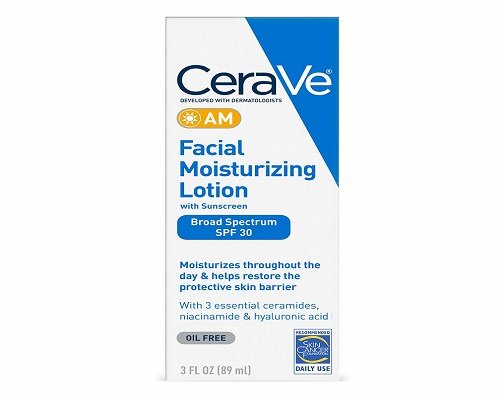 CeraVe Facial Moisturizing Lotion is not just light-weight, it is ultra lightweight which contains essential ceramides, Hyaluronic acid, and niacinamide. anti-inflammatory effect on the skin," but it also contains ceramides — the ingredient that makes this moisturizer-esque.
Ceramides form a protective layer on the skin and protect it against environmental aggressors, Niacinamide is anti-inflammatory in nature and soothes the skin while Hyaluronic acid locks the moisture content of the skin.
Pros
Non-Comedogenic
Fragrance free
Oil-free
SPF 30 Protection
Great Price
Cons
Thick Consistency
Cannot be applied under makeup
These moisturizers are some of the best picks which will help you get incredible skin without making it look greasy. Proper skincare leads to healthy and glowing skin. Moisturizing not only helps to maintain hydration, but it also improves the skin texture as well as controls the early signs of aging like fine lines.
So, next time, never forget to moisturize your face daily after you are done cleansing and exfoliating your skin.
I hope the list helps. Please leave your experience with these moisturizers and which one you loved more in the comment section below.