With the increasing interest in vinyl records, people have been investing in turntables. If you are a vinyl enthusiast, you might have noticed that simply plugging in the turntable to your existing stereo does not work, the sole reason being that the signal from your turntable is significantly weaker (by a factor of 1000).
This is where phono preamps come to play. Phono Preamplifiers also called RIAA preamps are transistors used as amplifiers. It is a device that applies the RIAA equalization curve to the signal, changing it back to the shape it was on the original recording. For all the non-nerds, it strengthens your signals so that it is receivable by your sound system.
Phono Preamp is a necessity for music lovers but choosing the best one can be quite a task. So, here is the list of top 10 Phono Preamps under $500 to consider while setting up your turntable.
The 10 Best Phono Preamp under $500 Reviews
The best element of Schiit Mani Phono Preamp is its sonic performance. It is designed and assembled using High quality components like 0.5% thin-film resistors and 2% film capacitors which results in a super low-noise gain and thus unrivaled audio output. The four switchable gain modes that are 30, 42, 47 and 59 decibels let us boost the ultra-low moving coil signals to the level we desire for. Sciit's RIAA Network gives terrific audio output that is passive, quiet, accurate, and very clear.
Pros
Flexibility for both high-output Moving-Magnet cartridges and high-output Moving-Coil cartridges.
Easy to set up.
Accurate Low-noise performance.
Consistent Sonic performance.
Designed and built in California with High-quality Components.
Cons
Limited Compatibility with certain gadgets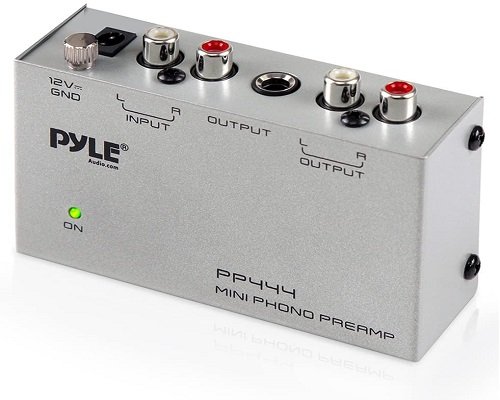 Pyle Phono Turntable Preamp converts phono signals to line-level signals. The Unique feature of this Turntable Preamp is its Low-Noise Audio Operational Amplifiers which boosts the signal to levels that are manageable for various types of audio equipment thus providing optimum performance. It also connects any turntable to a modern sound instrument and amplifies the music without the need of any special phono input.
Pros
Simple Plug and Play feature and fits most of the audio devices.
High Impedance and High Gain
Affordable Price
Cons
Audibility not as good as compared to expensive preamps
ART DJPREII has built-in low noise phono preamp circuitry that is highly accurate and gives best audio output. Designed with RIAA standards, its capacity coupling setup ( 100pF and 200pF) optimizes the phono cartridge response and allows you to record and play a variety of sources from your digital audio workstation to home stereo to main monitor system.
Pros
Great Design and Clean Sound Quality
Easy Installation
Worth all the money spend
Cons
Some users complained ART DJPREII has no on-off switch and the power indicator is incredibly bright.
This Pro-Ject Phono Box is here to give you smashing turntable music experience. The switchable subsonic filter in this Phono Box allows you to alter the sound experience as necessary which is helpful for music with super low frequencies. It is flexible with both Moving-Magnet cartridge and high-output Moving-Coil cartridges and its advanced circuitry keeps noise and distortion extremely low.
Pros
Compact Size and Easy Installation
Metallic case and outboard DC power supply shield the device from vibrational and electromagnetic interference.
Gold plated RCA connection sockets improves sound quality
Affordable Price
Cons
Designed for moving magnet cartridges only
Some Users complained about high-pitch noise from the power supply.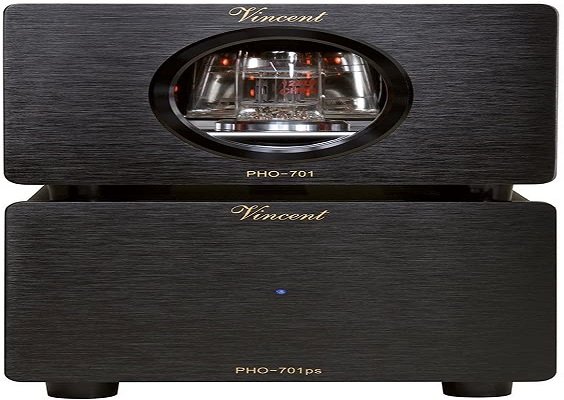 From offering a USB output, which enables you to archive your vinyl tracks to your computer using easily available software you find on the Web, such as "Audacity" to easily adjusting the input capacitance and input impedance, Vincent PHO 701 has it all. The separate cases for audio and power supply circuitry in this phono preamp help isolate the signal chain from AC distortion and interference. Constructed using high-quality components, Vincent PHO 701 Phono Preamplifier produces rich sound without any humming or rippling.
Pros
Flexible with low output MC or high output MM cartridges
Fine Tuning feature with many phono cartridges using dip switches on the bottom of the unit.
It doesn't produce the humming noise like other phono preamps.
USB output to archive vinyl tracks to your computer
Ultra-low distortion
Cons
Quite Expensive
Bulky and Heavy
Few users expressed some issues with the USB output.
Equipped with RIAA Equalisation, Bellari VP130 Phono preamplifier does not generate background noise and has a vacuum tube design which results in the rich and precise music experience. It also consists of an inbuilt headphone amplifier that allows you to do your recording easily and 24k gold plated transformers that ensure great sound quality.
Pros
Compact Red Design
Flexible with both Moving-Magnet(MM) and Moving-Coil cartridges.
The built-in headphone amplifier makes it more flexible and easy to use.
Vacuum tube preamp for warm and rich sounds
Cons
It doesn't work best at higher frequencies.
Some users experience hum sound.

Rega Fono MM MK II Phono Preamp has a fully discrete, cascaded, complementary designed amplifier input stage which optimizes the performance of your moving magnet cartridge. The Passive RIAA equalization circuit in this Phono Preamp is split into two stages to minimize interaction. Polyester capacitors have been used in the signal path and polypropylene capacitors are used in the RIAA equalization circuits which leads to warm and rich sound with lots of detail and separation.
Pros
Smooth Design with great audio output.
Great Rega Circuitry with Split stage RIAA equalization reduces interaction
Best Phono stage in its price category 2014,2015 & 2016
Cons
Not Flexible with MC cartridges.
Limiting Loading Options.
Being one of the quietest phono preamplifiers due to its AC polarity switch, Parasound Zphono MM/MC Phono Preamplifier is the best choice for listening to music as well as high-quality digital recordings. It has impressive control via the USB gain control panel and clipping indicator which ensures optimized and consistent sound transfer. It also features 2 additional inputs for recording line level audio and Headphone output for monitoring recording.
Pros
Easy to Set-up and Install with great sound quality.
Flexible with both Moving-Magnet and Moving-Coil Cartridges.
No humming sound; produces very low-level noise
Great for musicians; can be used for recording
Portable
Cons
With the updated switch mode power supply and a surface mounted circuit board, Cambridge Audio's Alva Duo offers prolific music experience to your ears. This Phono Preamp has a built-in subsonic filter and balance control to eliminate low frequency rumbles from imperfections in your vinyl for an accurate soundstage. It also has a unique 6.35mm headphone jack directly into the phono stage so you can enjoy the audio in private.
Pros
Impressive appearance as well as performance.
It provides a warm and rich sound experience.
Flexible for both MM and MC cartridges.
Built-in headphone amplifier for easy monitoring of sound quality
Features an auto power down, which shuts down when inactive for 20 minutes
Cons
One of the best features to choose Emotiva Audio XPS-1 Phono Preamp is its quality gold plated brass RCA connectors which deliver a great signal-to-noise ratio with very low distortion and outside interference. Use of high-quality components in its signal path provides RIAA equalization and standard signal boost even for units with a very low output resulting in superb sound quality.
Pros
Compact size and durable
Supports both Moving-Magnet and Moving-Coil cartridges.
No annoying Humming sound
Low THD (Total Harmonic Distortion)
Easy to set up and adjust sound performance
Affordable Price
Cons
Not competitive for MM cartridges
Conclusion
Thus, Phono Preamps let you experience and enjoy the best quality of your vinyl collection to the optimum level without any BS that sidetracks the music. We hope that our highly-researched list of the best phono preamp under $500 helps you choose your desired preamp.
Related Links: