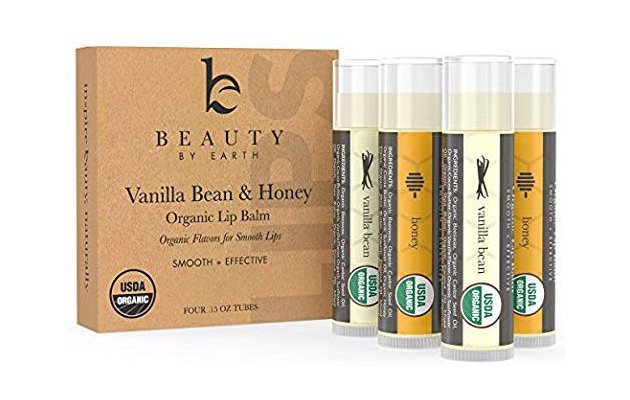 A lip balm must be an essential item in your skincare routine, no matter whether you are a man or a woman. It protects your lips and maintains the softness, smoothness to make sure they are healthy. Chapsticks might be in your list during cold months of winter to get rid of chapped lips, but that doesn't mean that you do not need it during the rest of the seasons.
The Best Chapsticks And Lip Balms for Men
When it comes to skincare, you cannot go wrong with the classic brands and the Chapstick Classic Collection Lip Balm is one such brand. It is one of the oldest and most trusted lip balms. It was named as America's favorite lip balm brand. The chapstick glides easily on the lips and protects the delicate skin of the lips. It also helps in healing and preventing dry and chapped lips. The package includes five packs of chapsticks. Each package again consists of three lip balms. The pack offers lip balm in five flavors: classic cherry, original lip moisturizer, classic strawberry, classic peppermint, and classic spearmint.
It is a flavored lip balm and is slightly tinted. The only downside of this lip balm is it does not offer SPF protection.
Are you looking for a good quality natural-base lip balm with sunscreen? If yes, SPFRx's SPF 30 lip balm is the solution for you! It is a hydrating lip balm that protects dry, chapped lips and prevents it from the sun and other harsh environmental factors. The lip balm also provides protection from long wavelength UVA rays and boosts UVB protection. The lip balm is formulated with superior and moisturizing ingredients such as organic olive oil, sunflower oil, and vitamin E. It also contains beeswax that not only coats your skin but also protects the natural oil.
Since the lips are one of the most fragile parts of the body and are vulnerable to the harsh effects of the sun, SPF protection is very important. To meet this requirement, there is a perfect blend of FDA recognized sunscreen agent to provide 30 SPF units. This product is exceptionally popular because it accomplishes all the requirements and has a pleasant and subtle taste of mango. The lip balm counter display is a great value and saves counter space as well.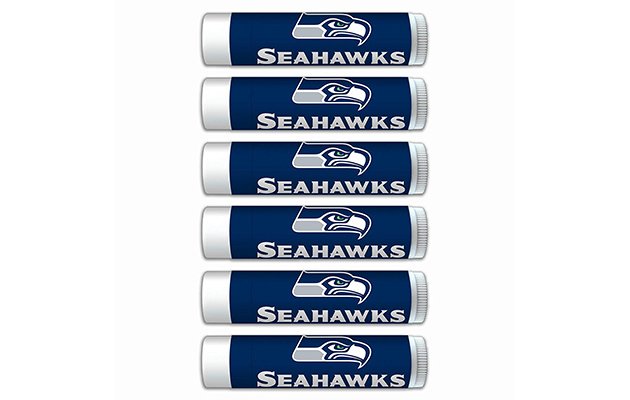 The NFL Seattle Seahawks Premium Lip Balm is an amazing and one of the most loved lip balms by men. The brand believes that the lip balm protects your lips the same way a coach protects its playbook. If you are not looking for any ole lip balm, this is a perfect lip balm for you!
The core ingredients of this lip balm are beeswax, coconut oil, and aloe vera. Coconut oil possesses anti-inflammatory properties that help in soothing and calming down the skin on your lips. The beeswax also helps in protecting the natural oils present on your lips and heals dry and cracked lips. Vitamin E is a potent anti-oxidant that provides a critical level of protection against the harsh effects of the sun. The lip balm features SPF 15 and offers a hint of smooth mint flavor.
The NCAA LSU Tigers Premium Lip Balm is another great lip balm that can be used by men. The chapstick glides on smoothly, leaving your lips protected and moisturized. A single application delivers a delightful hint of smooth mint and a refreshing feel and flavor.
The lip balm is truly unique and is perfect if you wish to add a little touch for a fanatic. Even though it is a little bit expensive, it has proven itself to be a great product. It offers UVA and UVB protection as the lip balm features SPF 15. It also includes organic moisturizers such as aloe vera, coconut oil, and vitamin E. These ingredients provide deep and instant hydration to your lips. A single coat promises to provide extreme moisturization and protects your lips from sun, wind, and cold weather.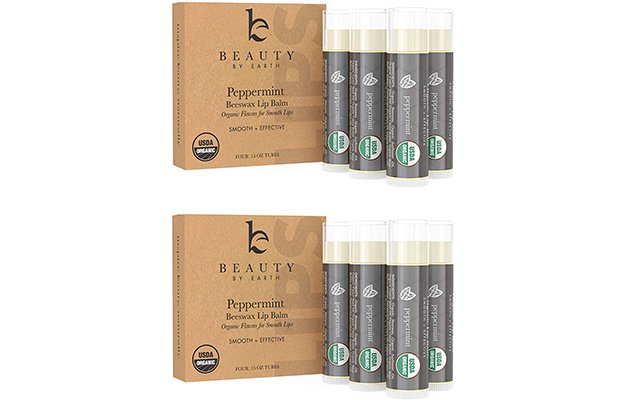 Do you believe that nothing can ruin a smile like dry, chapped, and flaky lips? If you feel that your dry lips are ruining your smile along with your true inner beauty, it's definitely time for a little TLC. Wondering how will this happen?? We have a source from where you can get nourished and healthy lips. The Organic Lip Balm by Beauty by Earth provides you everything.
It is a natural and certified organic peppermint flavored lip balm that is safe to use and is made up of all the natural ingredients. Its core ingredients include organic beeswax, organic shea butter, and sunflower oil. These ingredients have the capability to transform your lips from blah to wow within no time. All you have to do is apply the lip balm once or twice in a day (or whenever you feel to apply) to clear away the bad and nourish your lips with all the healthy ingredients.
It does not contain any artificial flavors, fillers, petroleum, and any other ingredient that can cause any harm than good. It has been formulated to nourish and support your lips while protecting them from other elements. There is a dash of natural peppermint flavor added so that it gives you a refreshing feeling every time you apply it. It also comes in a sustainable packaging that makes it suitable even for gifting it your loved ones.
This is one of the favorite products of most of the users. There is something about this classic chapstick that even after trying multiple brands of chapsticks, the users keep coming back to this brand. The All-Natural Beeswax Lip Balm by Naturistick comes in 4 soothing and refreshing flavors, namely Peppermint, Vanilla, Pomegranate, and Green Tea. It is made up of 100% certified beeswax and other natural ingredients. It excludes the usage of harsh ingredients or artificial additives such as petroleum, parabens, gluten, and other chemicals.
The chapstick has been harmoniously balanced to provide a soothing and refreshing effect. It is a perfect solution for soothing and healing dry, chapped, and damaged lips. The best part about this lip balm is it has been packaged with minimal impact on the environment and is cruelty-free (never tested on animals). Some of the most powerful ingredients of this lip balm are as follows: beeswax, sunflower seed oil, coconut oil, castor oil, cocoa seed butter, rosemary leaf oil, vitamin E, and aloe vera leaf extract.
The Beesential Natural Bulk Lip Balm is another great product that managed to make a place in our top 10 list of best chapsticks for men. The brand beessential is well-known for its chain of skincare products that are made up of all the natural ingredients. These products are hand-made and commit to staying cruelty-free.
The lip balm is super light and offers an easy application. It is so smooth that it glides on your lips and makes it soft instantly. The lip balm truly heals the damaged lips and leave them moist and hydrated. The lip balm is infused with healing vitamin E that makes sure that it starts healing the damaged portions of your lips. It also includes hydrating shea butter and cupuaçu butter. These butters are very moisturizing and hydrating in nature. The other ingredients include a soothing blend of healing beeswax, honey, and propolis. The lip balm is paraben-free, GMO-free, alcohol-free, PEG-free, and is never tested on animals.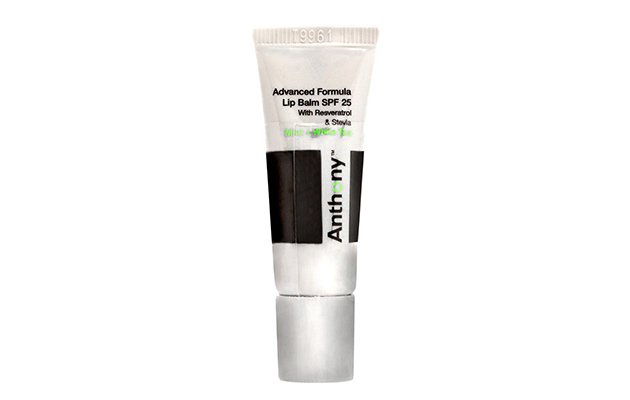 The Anthony Logistics for Men is a matte lip balm that is formulated with resveratrol that helps in nourishing your lips. The chapstick moisturizes, softens, and conditions your dry and chapped lips. Its broad UVA/UVB SPF 25 spectrum helps in protecting your lips against sun damage.
Unlike other lip balms, the Anthony skincare lip balm doesn't leave a glossy finish on your lips. It leaves a matte finish, and the stevia tries to sweeten and freshens your breath. The lip balm comes in an opaque and sturdy packaging which makes it easier to use. The lip balm has a mild smell, and it leaves a tingling sensation for some time after post-application. But it subsides after some time. It's cooling, and tingling sensation provides a great relief during the summer season. It has a unique combination of avocado oil and green tea leaf extracts.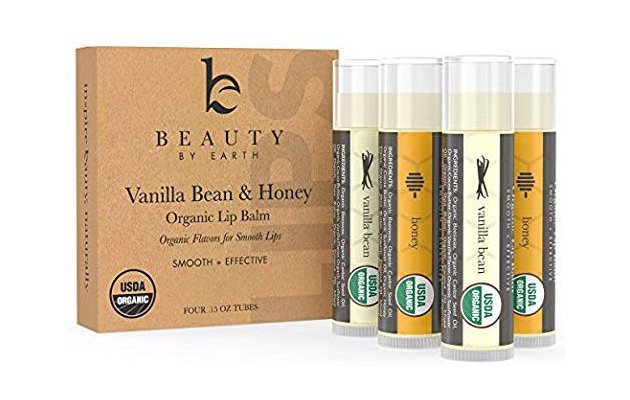 This is another lip balm by Beauty by Earth. Its organic beeswax lip balm provides long-lasting protection without relying on any fillers, petroleum, or soy. With each swipe, you get a delicious burst of honey and vanilla flavor. Thus, this chapstick is an easy and delicious way to achieve healthy lips.
The problem with any conventional lip balm is they contain ingredients that can actually dry out your lips causing cracked and dry lips. Eventually, you end up applying it multiple times. The organic Honey Vanilla Lip Balm solves all these problems. It does not include any harmful or toxic ingredients and is gluten-free, GMO-free, and petroleum-free. The lip balm is totally cruelty-free. It comes in attractive and sustainable packaging.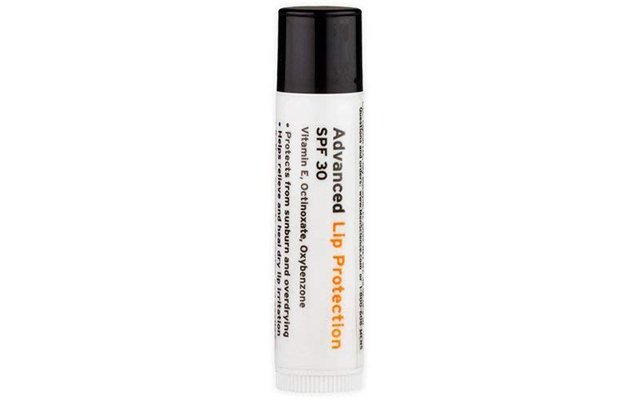 The MenScience Androceuticals Advance Lip Protect Balm is one of the best lip balms for men, especially if you love skiing because it offers very high SPF. It is made up of olive oil and hemp oil that not only hydrates your lips but also acts as antioxidants. These ingredients keep the radicals away from doing any damage to your lips. It also contains aloe vera extract that soothes the lips, and the SPF keeps the sun off of them.
If you are looking for something heavy-duty to get your healthy lips back within no time, you must give this lip balm a try.
Why Men Should Wear Lip Balm?
Lip balms are formulated to form a seal over the skin of your lips to maintain a barrier and enhance hydration. They also protect lips from the environment and the harsh rays of the sun. A lip balm with SPF is as important as any other sunscreen lotion that you apply all over the body. Thus, it is a very important product, even for men.
What To Consider Before Buying Lip Balm?
If you are looking forward to buying a lip balm for you, here are some important pointers that you must take into consideration:
A good lip balm must be made of good ingredients that can repair, replenish, and protect your lips. These ingredients include sugar, natural oils, aloe, vitamin E, green tea, etc.
It must offer SPF protection.
The lip balms are available in different formats: stick, squeeze, or tin. You can buy this according to your convenience.
It must be available at a reasonable price.
It must be paraben-free.
These were our top picks for the best lip balms for men. We hope these reviews help you find the best one for you.
Related Articles