Contaminated Human hands can spread a number of infectious diseases from one person to another.
According to the revised guidelines by the Centers for Disease Control and Prevention (CDC)'s:
One must wash their hands for at least 20 seconds with hand-wash/soap and water to remove all the visible dirt and kill harmful microorganisms.
Use of hand sanitizers when there is no access to clean water and soap.
70% alcohol or 60%? Ethyl alcohol or Propyl alcohol? Is it even necessary? And many more questions. Not a piece of cake about Hand sanitizers.
Hand Sanitizers are either liquid or gel-based and are used to decrease and prevent bacterial and viral mediums from our hands. It provides well on the go way to clean hands. Hand sanitizers which contain 60–95% alcohol concentration; this alcohol is mostly ethanol (the one we drink) or isopropanol (rubbing alcohol), are proved to be an exceptional antiseptic and disinfectant.
If you are stuck in the middle of nowhere to choose which one is the best, then here is the list of top 10 Hand sanitizers with the alcohol concentration to provide you one stop solution.

#
Preview
Product
Rating
Price
1
Germ-x Advanced Hand Sanitizer with Aloe and Vitamin E, Non-Drying Moisturizing Gel, Instant and No...

1,179 Reviews

$12.99

$8.41

Buy on Amazon
2
Amazon Basics Hand Sanitizer, Original Scent, Contains 62% Ethyl Alcohol, Unscented, 67.6 fluid...

23,651 Reviews

$11.35

Buy on Amazon
3
Germ-X Original Hand Sanitizer, Non-Drying Moisturizing Gel with Vitamin E, Instant and No Rinse...

66,889 Reviews

$39.96

$23.88

Buy on Amazon
The 10 Best Hand Sanitizers
The perfectly concentrated Artnaturals Hand sanitizer Gel with 62.5% Ethyl Alcohol has great sterilization strength. It is effective in stopping the spread of illness causing germs and bacteria in cold & flu seasons. The hydrating ingredients like aloe vera, vitamin E and jojoba oil in the sanitizer nourishes the skin to prevent dryness while maintaining the skin health.
Pros
Great for sensitive skin
Free from synthetic chemicals.
Kills 99.9% of harmful bacteria and germs
Suitable for Children
Scent-free
Cons
Some customers received leaked bottles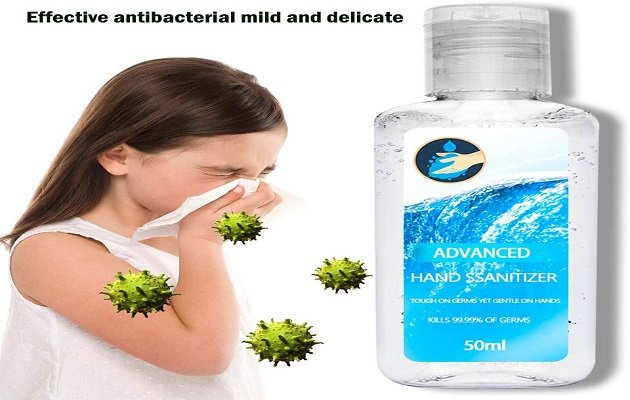 With 70% alcohol composition, Kitt Refreshing Hand sanitizer Gel efficiently cleanses our skin and kills up to 99.99% of most harmful germs. The rinse-free and no-sticky residue formula takes care of the hand hygiene without the need of washing them. Use of natural ingredients keeps the skin hydrated without and dryness or irritation even with frequent use.
Pros
Super-large capacity disinfectant for household use.
Free from Parabens and Phthalates
No use of harsh ingredients.
Cons
Need to be packed in a particular container for travel use.
With its effective anti-microbial properties, Purell Advanced Hand sanitizer is the one of best choice. Made up of 70% ethyl alcohol, Aloe vera, Vitamin E and other essential oils like orange peel, geranium, The Purell Hand Sanitizer helps in sustaining the skin health along with moisturization even after regular use.
Pros
2X Sanitizing Strength
Quick-Drying Formula which effectively kills 99.9% of germs and bacteria with single use.
100% naturally renewal ethanol
ECOLOGO certified with essential oils and natural skin conditioners
Free of parabens and phthalates
Cons
This antibacterial and moisturizing gel-based Hand Sanitizer by Ibcccndc is a great choice for the sterilization of our hands. With about 75% alcohol composition, it gives 99.9% of protection from harmful germs and bacteria and can effectively and quickly kill fungi, cocci, and viruses on the skin.
Pros
Portable and lightweight bottle.
Effective disinfectant and antibacterial properties
Quick- dry Formula in 10 seconds
Cons
Developed with 65% ethyl alcohol, the Olika Minnie Hydrating Hand sanitizer keeps your skin from drying out all thanks to moisturizers like aloe vera, Glycerine,and high grade essential oils like lemon, spearmint and bergamot.
Its unique and compact size replaces more than 15 bottles of gel-based alternative and has the capacity to release more than 500 sprays of its all-natural sanitizer.
Pros
Great for travel with TSA-friendly sizing
Locking mechanism to prevent accidental sprays in transit
24 hours of hydration
Gluten-free and cruelty-free
Cons
What's better than deep hydration along with a powerful mechanism enough to kill 99.99% of most harmful germs. Made with 67% alcohol concentration and nourishing ingredients like glycereth-26, and aloe vera, Touchland Power Mist Hydrating Hand Sanitizer goes true by its name. The fresh fragrances of the essential oils like lime and lemon makes it smell lovely and the fast-evaporating formula doesn't leave the sticky residue behind.
Pros
Travel Friendly
Long-Lasting as 20 times more uses than traditional gel-based sanitizers and 500+ Sprays.
No alcohol Smell
Triclosan Free, Cruelty Free, and Gluten Free
Cons
Germ-X Hand sanitizer formula features 63% of an active ingredient called ethyl alcohol which ensures that the 99.99% of harmful germs and bacteria are eliminated in less than 15 seconds.Glycerine and Vitamin E along with other reliable ingredients in the Hand Sanitizer keep the skin moisturised. The pump style dispenser model is best for prescribed application as needed.
Pros
Handy for heavy users of hand sanitizers, can be used for office purposes or at shops.
Perfect for dispensing and refilling.
Refreshing Smell.
Cons
Some customers found it thicker and more gel-like than other hand sanitizers.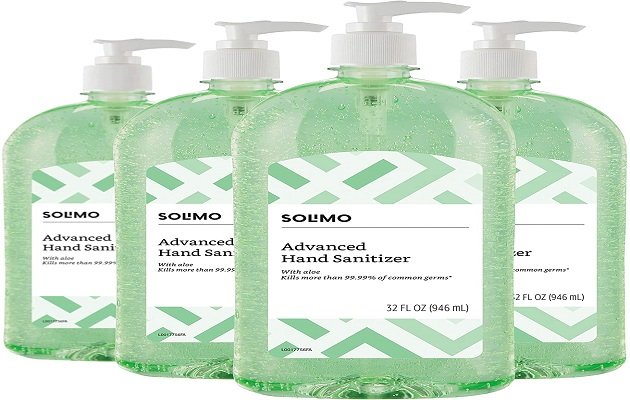 Solimo advanced Hand Sanitizer is made of active ingredients like Vitamin E, Aloe VeraGlycerin along with 70% Ethyl Alcohol which vigorously kills 99.99% of germs and bacteria as well as leaves the skin soft and smooth after use. The best part of this formula is that it effectively decreases the bacteria on the skin which can further lead to disease and illnesses.
Pros
Eliminates more than 99.99% of germs and bacteria in just 15 seconds.
Hydrating ingredients like Vitamin E and Aloe Vera
Bulk Travel Size
Cons
Some skin types are sensitive to alcohol based Hand sanitizers, even though it is ultra-effective at killing harmful germs.If you are choosing an alcohol-free sanitizer,make sure it is composed of active antibacterial and antimicrobial ingredients.
BUY FROM AMAZON
Cleanwell Natural Hand Sanitizer is an effective formula that kills germs naturally and is made up of active, antibacterial ingredients like 0.05% of Thymus oil, Aloe vera, Citric Acid and other essential oils. It is alcohol -free which makes it safe for kids and gentle on sensitive skin.
Pros
Benzalkonium Chloride free
No Irritation on cuts
Kills germs with natural active ingredients
Friendly for Kids and Pregnant women
Cons
Have to be used frequently because it doesn't last long as other alcohol-based hand sanitizers.
Babies have very soft and sensitive skin but they are more receptive to harmful air-borne germs and bacteria. Babyganics Alcohol-Free Hand Sanitizer is infused with plant-derived ingredients and antimicrobial benzalkonium chloride which effectively decreases the harmful bacteria on the skin. It is best for the tiny tots and people with sensitive skin as it is free from alcohol and fragrances.
Pros
Moisturizing Formula with natural ingredients
Kills 99.9% of germs and bacteria.
Non-Allergenic
Free from Parabens, Sulphates and Phthalates
Cons
Thus, Hand sanitizers offer portability and convenience over soap and water which we can't carry and use at all places.
Stay Safe, Stay Healthy!