Toybox 3D Printer and a companion app that allows children to find the toys from its vast catalog and print them at the push of a button This 3D printer gives you the utmost ease while using. Being a one-touch 3D printer it is very convenient to use for kids. You can also design your own toys using the app or upload your ideas in it and then the sky is your limit. You can create everything you imagine.
This device is developed using kid and parent-friendly non-toxic materials so you don't need to worry about the safety of your loved ones. It can be kept anywhere for instant printing. This printer will let your children have fun without creating any of the mess. Wish to know this amazing device in detail? Let's go!
Who's it for?
Toybox is mainly designed for children. Its simple process of operation and attractive design is loved by kids. But, at the same time, Toybox contains all those admiring features that the adults will be amazed by its functionalities too.
How do I set up a 3d Toybox printer?
It's very simple to set up a 3D Toybox printer. All you have to do is follow the steps given below
Install: Simply take out the Toybox and all the accessories that come along with it out of the box and connect it to the outlet.
Connect: Now you have to connect the device with your Wi-Fi and then pair your profile with the printer.
Load: After connecting, add the Toybox printed food into its chambers.
Print: You are all set now. Just navigate the Toybox app and you are ready to start printing.
Check all the pros and cons of Toybox below
Pros
The design of the Toybox printer is not too complex so that kids can use it with ease at the same time it is impressive enough that adults will find it interesting. The appearance of the device is very cute too.
The quality of the print is great and the interface makes it easy to print your own uploaded models also.
The process to be followed for printing using Toybox is very simple and easy to adapt.
You can control this printer using a single small LCD touch screen that shows the status of the printer and it has a simple interface to load filament, set up the printer, and configure settings.
Cons
The device is controlled by connecting to Wi-Fi but there is no offline mode so you have to be connected via Wife all the time. This can be an issue at times if there are any power cuts or any such problem.
It can't produce large prints. Prints are limited to just over 3 inches on each side.
Some of you may find that it takes a little more time than expected but we think the speed of printing using Toybox is moderate to good.
While printing, you may have a certain number of failed prints and other quirks that make it not quite the hassle-free process to print using Toybox.
Toybox 3D Printer Specifications
Before making any decision to buy a product you must be familiar with its features and characteristic so that you can make a well-informed decision regarding the product. To make it simple for you, here we have listed all the basic details of the 3D Toybox printer. Go through it and understand what this product has to offer you.
As Toybox is built using non-toxic materials, it is very safe to be used by kids.
This awesome printer can be controlled with simple one-touch functions so kids can use it on their own without any adult assistance.
With the Toybox 3D printer, you don't need to adjust the removable print bed. It has an easy filament loading and novel print bed design due to which you can easily remove the prints.
With Toybox, you have unlimited toys available at your fingertips and the catalog will be updated with new toys every week.
To create your own toys all you have to do is upload designs or you can draw them and bring them to life using Toybox apps and tools.
This printer comes in a very compact and convenient size and you can connect it to the cloud through Wi-Fi.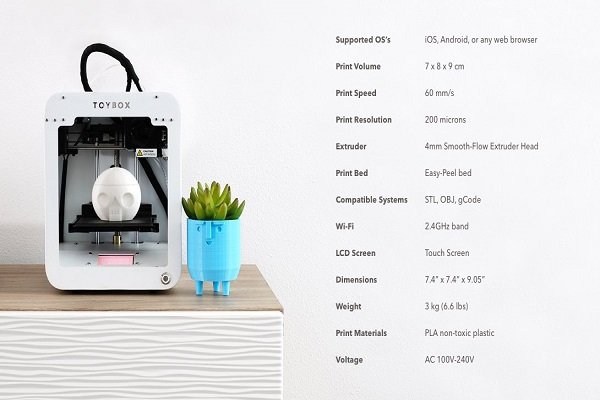 How is Toybox different than other 3D printers?
There are many quirks of Toybox that separate it from all the other 3D printers available in the market.
Unlike regular 3D printers, Toybox is specially designed for kids so there is extra concern about safety and simplistic use. This makes the device stand out of the crowd in an enormous range of 3D printers available.
It is made of non-toxic material and is designed in a way that kids and parents can use it with equal comfort, convenience, and efficiency. If you are printing simple toys, it will do it very quickly and with 100% efficiency. The interface of the device is very clean and straightforward.
The selection of great toys that is available at the app is one more added attraction of this product. The print quality that this device gives is really appreciable. The device is not at all complicated to install or use. If you follow some simple quick steps as explained above you are set to use it.
How long does it take to print?
It takes almost 1 hour and 45 minutes to get a print out of Toybox. Toybox gives you prints up to 3 inches tall. So considering both the things, Toybox is moderate to a good level fast printer.
So, as we can see this plug and play 3D printer a lot of fun to use. It allows you to print simple, colorful, and fun toys as per your imagination and own design. To add on to the fun, the process to print using Toybox is wonderfully simple. It creates no mess or confusion. Just install the apps and configure the slicers and with a single press of a button, you can print whatever you want.