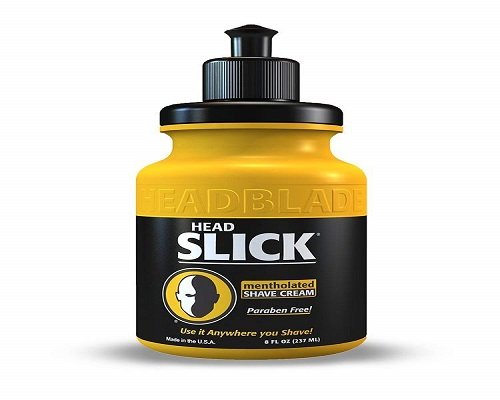 Bald is the new Bold! Having a bald head is trending in the fashion world, and it is here to stay. Above all, this amazing look is not just about staying updated with ongoing trends; it is also a symbol of confidence, dominance, and strength. Are you wishing to embrace this classic look?
The reason could be anything from experimenting with your look to covering the natural balding, but the important thing is what shaving products you are using to do so. While selecting the shaving cream, gel, or lotion or anything that you are going to use in the process, don't just go on the scent or the price of it but definitely consider some other factors which are way more sensitive and important.
Here we have listed down the best and most essential shaving products that are specifically designed for bald head care. While choosing these products, we have considered factors like the efficiency, effectiveness, sensitivity of the scalp, lubricating quality, etc. So, you can trust these options blindly and go bald in style!
The 5 Best Shaving Cream For Bald Head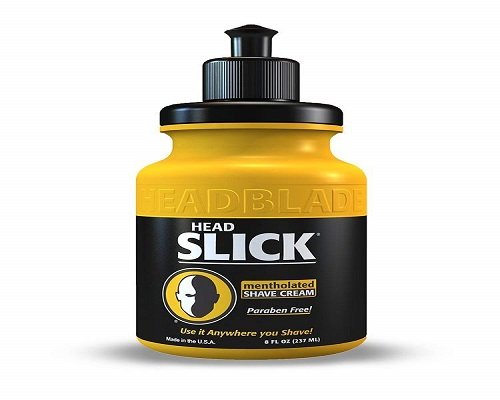 The first one in the list of these amazing shaving products for the bald head is HeadBlade HeadSlick Shave Cream! This shaving cream contains special lubricants that allow blades to glide effortlessly along the skin which makes the shaving process really effortless and completely safe. Its water-soluble formula makes it very easy to rinse the blade. This cream might be designed especially for head shaving but you can use it for multiple purposes like shaving face and body too. Read further and know more about this cream below.
Key Features
The cream has a unique Mentholated contains which leaves your skin and scalp feeling extra cool and refreshed after each shave.
This one contains 8 ounces of the quantity. It is filled with lubrication quality which lets the blade glide very easily and painlessly.
You can rinse the blades after use as HeadSlick is water-soluble.
It is very safe to use without worrying about any side effects as it contains no perfumes, no dyes, and is cruelty-free.
Being careful while shaving your head isn't enough as aftershave the skin of your scalp becomes very sensitive and it requires special care and attention. To serve this purpose a special product is here – Bee Bald heal post-shave healing balm! This balm immediately soothes damaged skin after shaving. It also helps in treating bumps, redness, etc. which might be caused due to shaving. This balm is made of 100% natural compositions and botanicals. It quickens the relief and restores the process of your skin and maintains a natural, healthy balance. Read further to know the details of this balm.
Key Features
It provides a very fast and effective calming feeling for all skin types after shaving.
Apart from soothing the scalp skin, it cures any burns, bumps, irritation, redness or injuries caused because of the use of a razor.
No matter what your skin type is, you can use this balm as it has all-natural and botanical ingredients in it.
Along with healing affected skin areas post-shave, it also restores the skin's natural, healthy balance.
This cream is long-lasting as a quantity is very effective.
After cream and a balm, Daggett and Ramsdell Bald Head Shaving Lotion is a much-needed shaving lotion that is specially formulated to help eliminate razor burn, irritations, bumps, and in-grown hair, etc. If you shave your head regularly, then this is a must-have for you as your skin needs that extra care to protect itself from the effects of continuous use of a razor. Even though you don't shave that often but have very sensitive skin or you just care about the long term health of your scalps' skin then this is the product for you! Know more about it below.
Key Features
Daggett and Ramsdell bald head shaving lotion is extremely lubricating. It helps in eliminating the razor burn, bumps, in-grown hair, burns, etc.
It is designed to shave very delicate scalp skin without causing any burns, cuts, redness, or skin irritation.
To keep your scalp skin very healthy and away from the effects of the razor, apply this lotion evenly across the scalp.
It provides smoothness to your skin for effortless shaving as well as moisturizes it to keep it softer and healthier.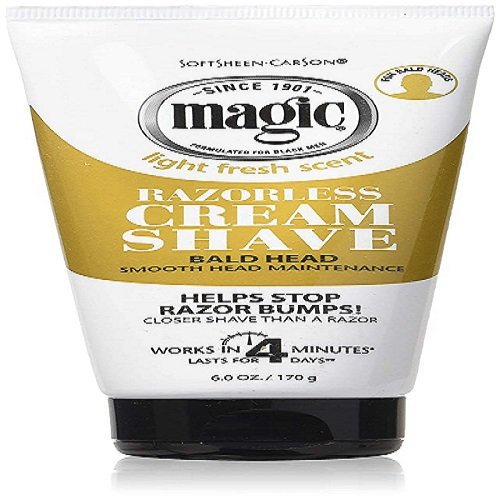 We know that shaving your head using a razor can be a dreadful task for many of you. Especially if you have very delicate and sensitive skin or you have to shave very often. The regular use of razors might cause many issues like skin burns, irritation, cuts, redness, etc. All this can be avoided just by using Magic Razorless Cream Shave Bald Head. Know everything about this unique shaving cream below.
Key Features
The Magic Razorless shave cream has a very light, lingering scent which keeps you feeling refreshed even hours after using it.
It comes in a format of 6oz tube which is very convenient to use and very simple to store and carry wherever you go.
You can get even a closer shave than razor if you use this cream without facing any burns or bumps unlike the shaving process using a razor.
It smoothens the skin of your head and provides it with the moisture and softness you will truly adore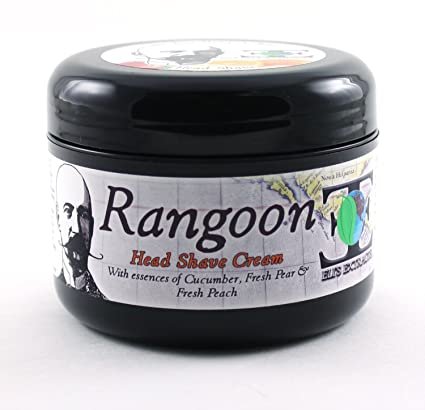 Treat your skin well and get a truly unique shaving experience with Ragoon Head Shave Cream. This head shaving cream is enriched with completely natural vitamins, minerals, and essential oils which effectively eliminate the razor burns and skin irritation. With the help of this product, you can keep a smooth, clean, healthy and nourished shaved head effortlessly. This contains a never before blending of extracts of fresh peach, pears, and cucumber. Keep reading to know the details of this shaving cream. –
Key Features
This shaving cream is infused with natural healing and rejuvenation properties which takes special care of delicate scalp skin.
It has the essence of cucumber, pear, and peach which makes it heavenly fragrant and unbelievably therapeutic for your skin.
It will treat your scalp skin and at the same time soothe all your senses with natural fresh fruit fragrance.
It is made with the perfect combination of avocado and cucumber oils in the perfect proportion which makes your skin healthy and moisturized.
It is very safe to use and is good for your skin as it contains no synthetic chemicals or artificial colors.
Tips To Shave Your Head
Now you know what are the various products which you will require if you have decided to shave your head or you have a bald head you want to follow a proper regime to maintain its health and amazing aura. Now the next step is to know how to shave your head like a pro and what care is to be taken while doing so. Here is the list of do's and don'ts while shaving your head.
The first thing to know while shaving your head is its shape! The shape of your head determines how the bald look is going to look on you. Check if you have any bumps, divots, ridges, and flatness on your head before shaving.
Don't do it just for the sake of doing it. Be extra careful while choosing all the products you are going to use for shaving your head. After all, this is the look you want to carry and flaunt here on.
Cut all of your hair to a length that you can manage easily before going completely bald. Then take a proper shower with warm water to rinse it soften the skin before shaving. The warm shower will help in opening pores, relax your hair, and minimize friction that might occur while cutting your hair all the way.
The next step is to exfoliate your head properly. This will help in preventing the clogged pores by lifting the dead skin of your scalp.
Then spread shaving cream or gel on your head as per your requirement and lather it up properly so that it covers the whole area which is to be shaved. Massage it lightly using your hands and warm it up with some force.
Now you are ready to shave your head. Just be very careful and go slow while doing it and finish one area before moving on to the next.
After you are done shaving, rinse your head with cold water. This will make your skin firm and prevent it from any possible blockages.
Don't forget to use an aftershave lotion or balm. It will provide your skin with a soothing feeling and take care of any cuts or bruises that might have occurred while shaving.
Now you are all prepped up with everything that you need to know about shaving your head and be on the top of the trend. So, what are you waiting for? Be bold, Be beautiful!
Related Articles: