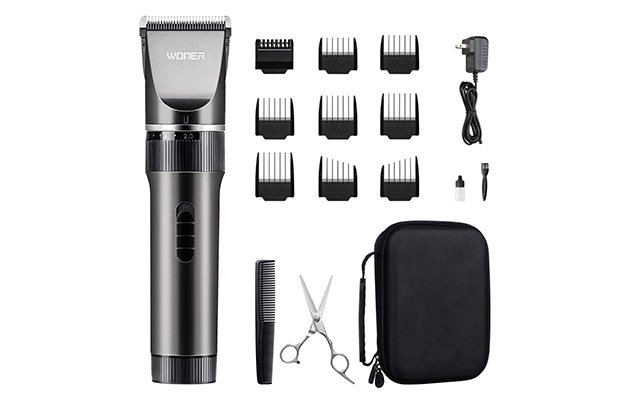 Hair clippers are vital to man's grooming routine, especially if you love shaving or trimming your hair by yourself. It might seem like a bit daunting process, but at the end of the day it is very satisfying too.
Buying a pair of hair clippers can be as confusing as going for a new hairstyle. There are many factors that need to be considered such as whether they are mains-powered or cordless, type of blades, guards, taper levels, and the most essential one – how much to spend on a hair clipper.
To help you with this confusion, we have shortlisted 10 best hair clippers in the market with a detailed review. Let's have a look!
The Best Hair Clippers for Men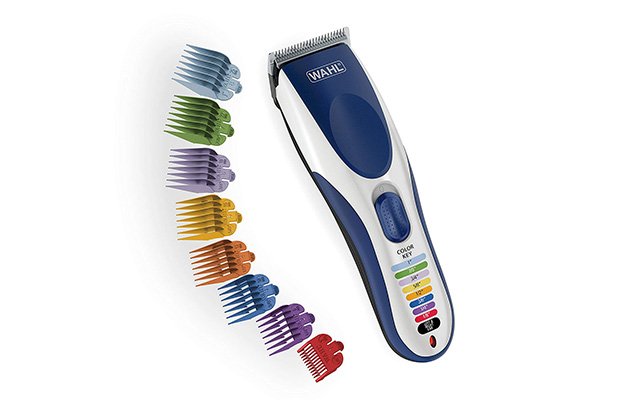 The Wahl Color Pro Hair Clipper & Trimmer is an interesting hair clipper that can work with and without a cord. It is a professional hair clipper that looks very stylish. The kit is color-coded and has 21 pieces of accessories including 12 color-coded attachment guards, a rechargeable clipper, clipper blade cover, 2 hair combs, scissors, blade oil, blade detail cleaning brush, and a convenient soft storage case with a handle.
The clipper offers a world-wide voltage that ranges between 110V-240V which is perfect for universal use at home. It can be used internationally too. The best part about the clipper is it has detachable blades that can be removed for hassle-free cleaning.
Key Features:
It is a rechargeable hair clipper that offers a run time of 60 minutes.
It has detachable stainless steel blades.
The blades are easy to clean and can simply be rinsed with water.
It comes with a convenient and soft storage case.
The color-coded attachment guards make it easy to find the correct size guards.
It lets you have an easy goof-proof at-home haircut.
The Wahl Clipper Self-Cut Personal Haircutting Kit is an extremely powerful kit that features an ultra-quiet hair clippers with self-sharpening precision ground blades that stay sharp for a very long time. It has a powerful no-snag motor that cuts through the thickest of hair without snagging or pulling.
The Wahl Self-Cut Haircutting Kit features an easy-to-use and compact clipper. Its ergonomic design offers a soft-touch grip that results in excellent cutting control. It is designed using a combination of an extra-length industrial power cord that makes it easy to reach the back of the head. The kit includes a complete set of Secure-fit attachment guards that glide through the hair for superior comfort and cut quality.
Key Features:
It is an ideal grooming kit for self-haircuts.
The long cord helps in reaching the back of the head easily.
It is powerful enough to provide smooth and no-snag haircut.
It has an ultra-quiet yet powerful motor.
It also has self sharpening precision ground blades.
It is a 22-piece haircutting kit that includes all the essentials.
It has a compact design and comes with smooth secure-fit guards.
The Professional Haircut Kit for Men by Vapker consists of everything that you might need for a successful hair cut at home and lets you achieve a wide variety of hairstyles and hair length. It comes with a premium hair clipper along with an advanced patented motor that provides substantial speed and power without producing additional noise and heat.
The hair clipper also includes premium self-sharpening precision ground blades that help in cutting through the thickest of hair. You get a complete set of clipper attachment guards that glide through the hair for superior comfort. It is a cordless hair clipper that comes with an advanced silver Pd-alloy motor. The motor runs at 8,200 revolution per minute that helps in providing substantial power.
Key Features:
The clipper is made using a self-sharpening ceramic titanium blade that is designed to stay sharp for a longer period.
It offers an efficient and precise smooth trim and cut.
It features Q-SUS low noise technology that lowers noise that is less than 60lb.
It also features a 2000 mAh powerful lithium battery that offers a running time of 240 hours.
These wireless clippers are easy and convenient to use.
The kit provides a monthly warranty of 24 months.
The Remington HC4250 lets you turn your haircut into a DIY project. The kit offers everything that you need for a quality haircut at home. The kit features an ergonomic design that fits comfortably in your hand. It also has a curved blade that works great with the natural shape of your head. Thus, it makes self haircuts precise and comfortable.
These clippers are 57% wider than any standard haircut clipper that lets you get the job done faster. The lithium-powered battery helps you provide a cordless runtime of 40 minutes and ensures that you have enough power to finish the job.
Key Features:
The clipper fits perfectly in the palm of your hand and lets you reach the back of your head comfortably.
It features a lithium rechargeable.
It offers a runtime of 40 minutes after you charge it fully.
It is a 13-piece kit that includes a hand-held clipper, 9 length adjusting combs along with a cleaning brush and a storage pouch.
It has extra-wide curved blades that perfectly contours to your head.
It is 100% waterproof and you can clean it with water conveniently.
The Cordless Hair Clipper by GEEDAR is an amazing set of hair clippers that are designed especially for professional use. It has an adjustable speed motor that rotates smoothly and precisely ranging from 5500 RPM to 6500 RPM. The clipper has a built-in premium Li-ion battery that works in a cordless model.
It is very safe to use and can offer a runtime of 5-7 hours once it is charged fully. You can even switch it to corded mode so that you can work on a continuous mode without worrying about the battery levels. It has titanium ceramic blades that help with the durability and make it last longer without any difficulty.
Key Features:
The clipper has a powerful and adjustable speed motor.
It offers a superior cordless operation time.
The machine lets you experiment with your brilliant hair artistry.
It has a safe and built-in Li-ion battery which can run for 5-7 hours.
You can use it in both ways – with cord or without cord.
It also has a high-quality crystal clear LED display that indicates Power status, Load status, and speed.
The device supports the direct cord plug-in charging option.
It comes with a warranty of 1 year.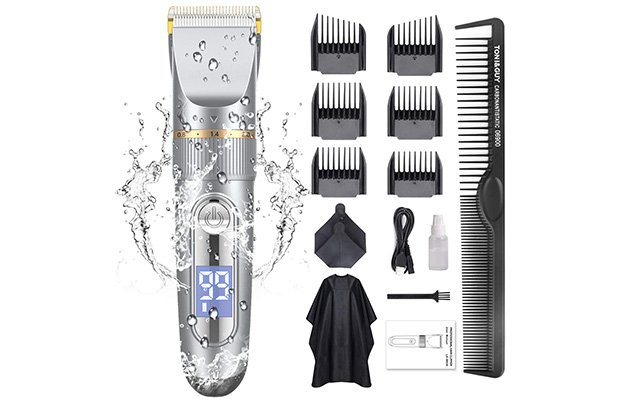 The GOOLEEN Hair Clippers for Men is another best selling product that comes with upgraded blades. It has a sharp ceramic titanium blade that cuts the hair smoothly to provide you a smooth and high-quality trim. The blades are detachable and this makes it very easy to clean the blades.
The entire kit is washable as it is made up of IPX& material. This allows easy and quick cleaning in running water. It is a professional hair clipper and can be considered as a great gift for men. These professional hair clippers are made using precise craftsmanship and let you meet the requirements of daily and professional haircuts.
Key Features:
It is a professional and waterproof haircutting kit.
Its high-quality lithium-ion batteries provide sufficient power for general usage.
These cordless clippers are convenient to use.
They help you provide a clean and neat haircut experience.
The entire kit meets all your styling needs.
Its 1500mAh battery provides a run time of 210 minutes after charging for 3-4 hours.
The speed and the trim length of the device are adjustable.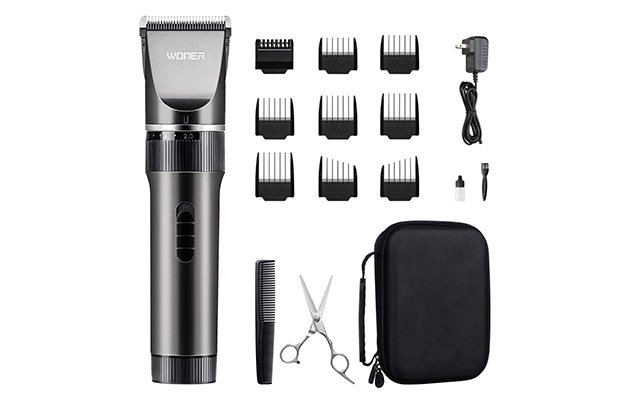 The WONER Hair Trimmer offers a professional family hair clipper. It is a 16-piece haircutting kit that features an easy-to-use compact clipper. Its blades are made up using titanium and ceramic. The blade is very sharp and can cut through the thickest of the hair. It comes with 9 attachment guards which can help you cut corner hair with ease.
The 5-position adjustable guide ranges from 1/32" to 1/12". Apart from this, you also get a convenient storage case, clipper blade oil, charger adapter, and a cleaning brush. It helps you provide a professional cut and trim to your hair.
Key Features:
It is a cordless hair clipper that comes with a hard and convenient storage case. It helps you keep everything at a place.
Its professional bade stays sharp and cuts the hair of all types.
It offers 5 precise length control along with 9 guide combs.
It is a trusted brand and it comes with a free replacement warranty for 12 months.
It offers worldwide voltage for universal use.
Its powerful ultra-quiet motor provides extreme power for smooth and no-snag cutting. 
The Hair Clippers by DUSASA offer professional and cordless experience to its users. The entire kit is packed with a full range of grooming accessories and fulfills all your needs and requirements. It is not only ideal for home usage but is also a perfect kit for professionals.
The clipper offers five adjustable blade position settings for precise cut, trim and shave. Another amazing feature of the kit is one key lock that makes it easier to use the device. The professional self-sharpening blade stays sharp for a long time and cuts all types of hair. The blades are detachable so that you can clean it thoroughly. The best part about it is you get a spare blade along with the device.
Key Features:
The kit is very useful for both home and salon use.
It is fully washable and can be used in the bathroom too.
It comes with ceramic and titanium blades which are harder than blades made up of stainless steel.
It is a lightweight device.
Since it is small in size, it makes it easy to carry while traveling.
It offers a comfortable grip that makes it convenient to use.
It comes with a warranty of 12 months.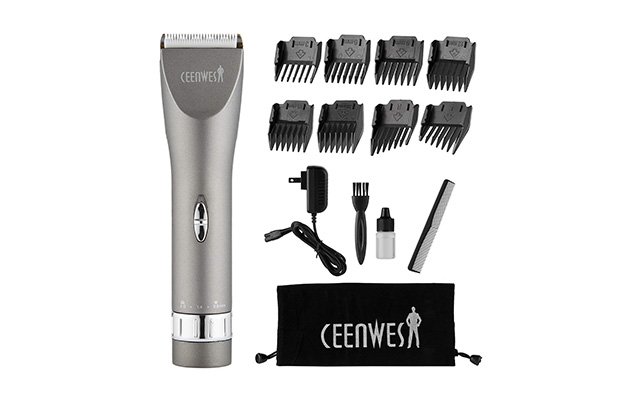 The CEENWES Professional Hair Clippers are user-friendly accessories that provide 3-6-9-12-15-18mm guide combs. These leveled combs lets you trim your hair evenly. It also lets you adjust the height and length of the combs easily. The hair trimmer comes with a precision motor that provides low vibration. It features an ultra-quiet design that produces noise that is less than 50db.
Since it is a cordless device, this makes it easier and convenient for self hair cutting and safe for wet hair cutting. It has a special R-shaped Obtuse Angle Blade that prevents any accidental injuries.
Key Features:
It offers an innovative self haircutting system.
It is not only an ideal solution for home barbers but also for the professionals.
It offers a comfortable grip and can be used easily while traveling.
It features a durable lithium-ion battery that offers a great runtime.
The titanium ceramic blade offers efficiency to the clipper.
The ETEREAUTY Hair Clippers and Beard Trimmer for men is a professional product that comes with self-sharpening titanium ceramic blades. These blades are rustproof and sharp. They also provide a soft and smooth haircutting experience. The shape of the blade head is round. This feature makes it safe to use the device.
Key Features:
It is a powerful hair clipper that comes with 2200 Mah Li-ion battery.
The battery offers a runtime of 240 minutes.
Its zoom wheel length control ranges from 0.8mm-2mm that offers precise hair cutting length.
It has an LED screen that shows working time and indicates other maintenance-related issues.
It is an ultra-quiet hair machine that does not disturb other people.
It supports charging in both the ways – with cord and without cord.
These were our top picks for the best hair clippers for men. We hope these reviews help you find the best one for you.
Related Articles: