With an increasing number of road accidents, the blind spot mirrors have become an important car accessory. They offer enhanced visibility to make your drive safe. These are useful, especially when you are driving in urban areas. The chances of missing a pothole or a pedestrian walking on the road are higher because of a blind spot. To prevent the drivers from such accidents, these tiny glasses can turn out to be very useful.
Is Blind Spot Mirrors Useful?
It is a helpful gadget that can be fitted on the side mirror of your car and show you the parts of the roads that are hidden from the driver's vision. They are very affordable and cost-efficient. More than anything, they ensure your safety.
It is very useful while you are driving in traffic and also helps you while changing the lanes. It comes in handy and can even help you while parking the car.
10 Best Blind Spot Mirrors For Car
To help you find the best blind spot mirror, we are sharing our top picks of the blind spot mirrors.
1. Fit System C0400 Driver/Passenger Side Stick-On Adjustable Blind Spot Mirrors
The Fit System C0400 Adjustable Blind Spot Mirror is one of the cheapest options in the entire list. The mirror has a dimension of 2 inches in diameter and is adjustable. It promises to offer a wide-angle view. The mirrors are housed in a thick plastic frame. Thus, it might limit the adjustability and can also take up a bit more space on your side mirrors.
One of the reasons that it is cheaper when compared to the other products is the mirrors use plastic instead of glass. This leads to a not-so-clear vision. Also, the plastic might degrade over time (depending on the weather conditions.)
The Fit System Blind Spot mirror is very easy to install as there is a small square adhesive at the back. It holds the adhesive even if the side view mirrors are heated. For a better and easier view, the mirror magnifies the objects in the side view mirrors.
In short, this two-pack, two-inch blind spot mirror, is a great product and is worth the cost.
2. Utopicar Blind Spot Mirrors
The Utopicar Blind Spot Mirror comes as a set of tow-pack mirror which aims to give you an enhanced view of the blind spots on both sides of the car. It allows you both – a fixed installation and an adjustable installation. Also, the installation is a very easy process as it has a strong adhesive, and you get an extra piece of 3M adhesive foam for fixed installation.
The mirror features a frameless design so that it merges with the aesthetics of the car and eventually, look like it is a part of the car and not any additional gear. The mirror promises to offer a wide-angle view and show larger images. It does so by elongating the mirror sideways, thereby giving a convex appearance.
This blind spot mirror is best known for the awesome rear view that it offers. The Utopicar Blind Spot Mirror is an upgraded version of the traditional circular frames which aims to provide clear visibility, especially while changing the lanes.
The only con of this mirror is it takes a lot of space and is quite larger than any standard blind spot mirror. The adhesive tape is not completely waterproof, and thus, you might have to adjust it again during the rainy reason.
3. WadeStar RM10 Blind Spot Mirrors
The WadeStar RM10 Blind Spot Mirror is an amazing blind spot mirror which is specially designed for the 4th Gen Ram Trucks. These trucks have non-towing mirrors, and thus, they form a perfect companion to these stock non-towing mirrors. They aim to increase the view around the vehicle while driving as well as parking. It easily attaches to the stock mirror and improves the visibility around the vehicle.
The mirrors are customized and designed so well that it looks like they come with the vehicle itself. It offers a great quality view with a perfect wide-angle view. It is perfect in size and blends well with the shape of the mirror. The WadeStar RM10 Blind Spot Mirror offers a safe and comfortable driving.
4. Best Blind Spot Mirror by The Essential Contraptions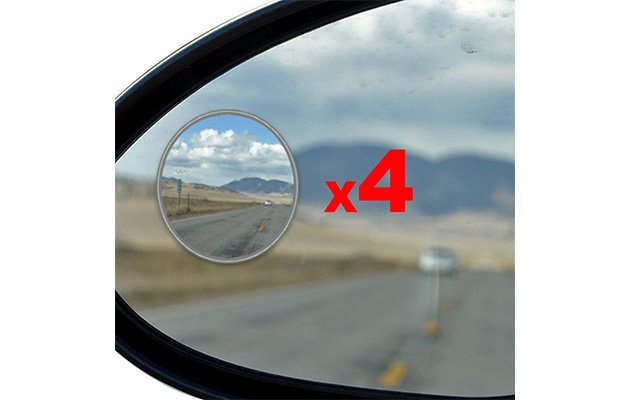 The Essential Contraptions Blind Spot Mirror is one of our top picks as it is not only cost-efficient but also offers high-quality features. It is a durable product and lasts for a very long time. You get a four-pack set which is a great deal for two vehicles, or you can use the spare ones as a replacement for broken mirrors.
It is a universal fit and can be used with any vehicle. The mirror has an aluminium frame which enhances the stability of the mirror and maintains the sturdiness. It protects the mirror from any damage. Like all the other blind spot mirrors, this product also has an adhesive attachment. With a 2-inch convex mirror, it is made up of real glass. This lets you have a clear view of the blind spots.
You don't have to worry about mirror hazing after a few years. There's no swivelling adaptor, and thus, the mirrors are not adjustable.
5. Dometic DM-3100 Milenco Aero3 Blind Spot Mirror
The Dometic DM-3100 Milenco Blind Spot Mirror is one of the best blind mirrors which is made up of supreme chrome glass and a unique clamping system. It fits in both curved and flat mirrors. For vibration and security, the spot mirror is wind tested up to 240 mph. The mirror is constructed in a way that you can place it wherever you want to keep it.
It has a universal design combined with maximum view and very high stability. It offers an easy grip clamp attachment and an air balanced design. The clip on the towing mirror is very easy to assemble and does not require any special tools for assembling. It offers superior performance in even high winds. It is a great spot mirror for rough and rugged use.
6. Blind Spot Mirror Square by LIBERRWAY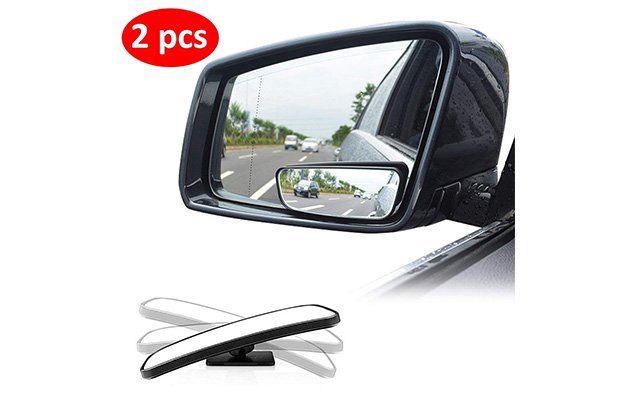 The Blind Spot Mirror by LIBERRWAY is a wide-angle mirror with an adjustable convex rear-view mirror. It has a chrome-plated glass mirror which promises to offer an HD view and does not even oxidize. It offers a broad vision and effectively eliminates the blind spots. The best part about this spot mirror is it offers a broad view on either side of the vehicle. This helps in increasing safety, thereby preventing any accidents.
It offers a wide-angle mirror with a 360 degrees rotation. It is made up of waterproof and rust-resistant materials, making it more durable. These HD glasses do not even haze. The mirror comes with a strong 3M adhesive.
The glue helps in keeping the blind spot mirror in place and prevents from coming off frequently. It hardly takes seconds to install but stays intact for a lifetime. It is a suitable blind spot mirror for trucks, vans, and SUVs.
7. Ampper Blind Spot Mirror
The Ampper Blind Spot Mirror is one of Amazon's best value product. The best part about this product is it comes in two shapes – both round shape and egg shape. It has a mounting bracket with a 360-degree swivel head. This allows the mirror o swivel without moving the base. Thus, it is an ideal blind spot mirror for both short or tall people.
The mirror is 2-inch in height and offers a frameless design. This helps in optimizing the view of the road. The glass plate is HD in nature and does not haze, making it suitable for all the weather conditions. To maximize the view, the mirror is in a convex shape.
The mirror can be used with all vehicle types and can be stuck with a strong 3M adhesive. It is a budget-friendly option with a very easy installation process.
8. Beech Lane Blind Spot Mirror
While most of the add-on towing mirrors look bulky, the Beech Lane Blind spot mirror is specially designed to look good and sleek and doesn't spoil the look of your car. These mirrors look so sleek that even after sticking it to the existing mirror, the blind spot mirror is hardly noticeable. The mirrors are made up of high-quality chrome glass. This helps you give the best possible view. Unlike other mirrors, it doesn't even blemish or fade with time.
The Beech Lane glasses are made to last long without compromising on the view that it offers. Moreover, the glasses are anti-glare, and this property makes the drive safe even during night times. There's an authentic 3M adhesive on the back of these glasses. Once installed, the adhesive makes sure that it stays there for years and offer you a clear vision.
These blind spot mirrors are designed in such a way that they are a perfect fit for the 4th Generation Dodge Ram Truck. It comes with a two-pack of the stick-on mirrors. These mirrors can fit perfectly either on the top or at the bottom of your car's mirror and still offer you enhanced visibility on the road.
9. 2″ Blind Spot Mirror by Blind spots
The 2" Blind Spot Mirror by Blind Spot Mirror is an affordable option with a decent performance. It is made up of an aluminium frame which makes the product durable. It also lets the mirror withstand even in worse conditions. The plastic frames usually look bulky and do not last long.
According to the surveys, most of the road accidents happen due to blind spots. Thus, the blind spot mirrors are very useful in such conditions and assure that they offer you a safe ride. This blind spot mirror is made up of real glass and does not cause haze. It is very easy to install with a strong adhesive. It is always suggested to stick the blind spot mirror after cleaning your vehicle's mirror. The best part about this blind spot mirror is it can be used on any vehicle.
10. SIMENMAX Car Blind Spot Mirror
The SIMENMAX Car Blind Spot Mirror lets you eliminate the blind spots easily and make your drive safe and easy. It has a 2" round ultra-thin frameless design. This makes the mirror more flexible and does not even take a lot of space. It fits properly and does not form a distraction to the driver.
It is made up of real HD glass which provides you with an extremely clear and enhanced view. The glass is anti-rust and anti-fogging in nature and the convex structure offers a larger view of sight. This, in turn, helps in eliminating the blind spot easily.
The blind spot mirror has a strong adhesive on the back. Thus, it doesn't matter if it is raining outside or you are giving your car for a wash, the adhesive will remain strong. It also allows 360 degrees rotating option with 30 degrees sway. This helps you adjust the visibility area. In short, this is a great product at an affordable price.
How To Use Blind Spot Mirrors To Increase Driver's Safety?
One thing that you must always consider while picking a blind spot mirror for you is the size of your side mirror. These mirrors are adjustable and allow you to select a view according to your convenience. Most mirrors come with an e-guide or a manual. You can adjust the mirror in such a way that you can see the entire view from the driver's seat. With the correct view, it will be very helpful to discover blind spots and prevent accidents.
These were our top picks for the best blind spot mirrors. We hope these reviews help you find the best one for you.
You Might Also Like: