Imagine that you have a notepad that has an unlimited number of pages. Sounds amazing right? That's definitely not possible with a writing notepad. And even if you wish to use such a notepad, imagine how many papers are you going waste!
To help you with this situation and to save the environment, there is an amazing thing out in the market which is known as digital writing pads. This electronic pad appeals to everyone who loves writing on the paper. The touch and feel are almost the same. Moreover, they are very lightweight and small in size. Voila!
What are drawing/Writing tablets used for?
The digital pads or the drawing tablets allow the users to write on their pads and save them in PDF format. The digital notepad blends the convenience of a regular notebook with the functionalities of that of a tablet.
To make the purchase more accessible for you, we have put together a collection of the best drawing tablets available in the market. Unleash the creative side of yours with these amazing pads, and we are sure you will love the flexibility and the precision of these stunning tools which may even go beyond your imagination.
So, here is our list of best digital handwriting pads. Enjoy!
What is the best tablet for writing?
1. Boogie Board Jot 8.5 LCD Writing Tablet + Stylus Smart Paper for Drawing Note Taking eWriter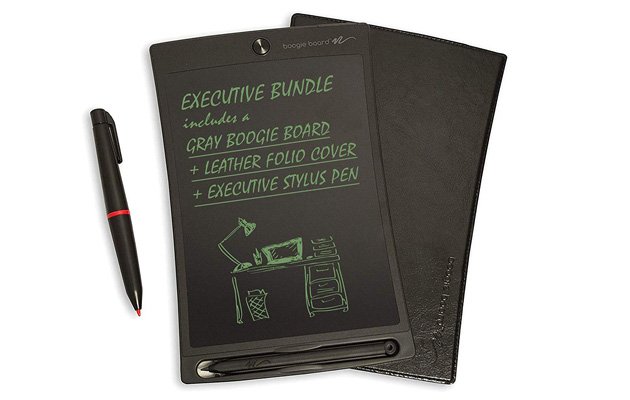 Product Description:
The Boogie Board Jot 8.5 LCD writing tablet is powered by a replaceable CR2016 3V coin cell battery. This battery is supposed to last for seven long years before the replacement. The tablet has several magnets at the back that allows you to stick the Jot 8.5 on any surface.
Since there's no power button on the tablet, the eWriter can be used always within the stylus. The stylus present on the screen gives a very smooth and slick feel which, in turn, doesn't show up smudges or fingerprints.
Press the button at the top of the slate, and the content will be erased completely. It's either everything at all or nothing.
This tablet is definitely an eco-friendly alternative to pens and papers. It has a larger screen and brighter lines which makes its price worth it.
Some of the pros and cons of the product are as follows:
Pros:
It's fun to use.
It has brighter lines.
The battery has a life of 7 years.
Cons:
A bit expensive when compared to other eWriters.
If you wish to erase something, you have to erase everything. You do not get the option to delete anything in bits.
2. LCD Writing Tablet, OIOSEN 8.5 Inch Electronic Drawing and Writing Board for Kids & Adults, Handwriting Paper Doodle Pad for School and Office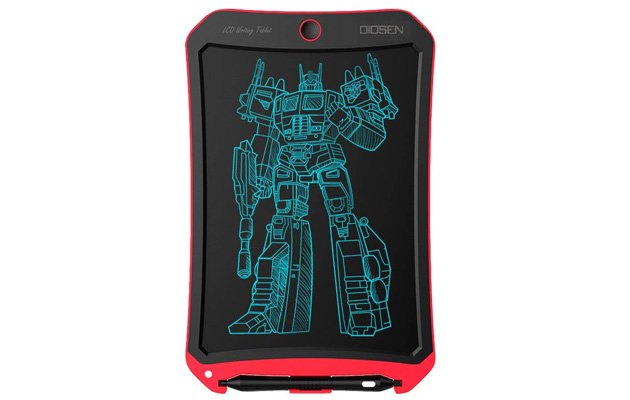 Product Details:
OIOSEN 8.5 Inch Electronic Drawing and Writing Board is an affordable Tablet that comes with a convenient built-in stylus and a holder at the bottom of the tablet. It has a dual-tipped stylus and provides some amazing options for fine or wide point writing or painting.
There's a push button available at the top. You can press it to erase the content.
Some of the pros and cons of this LCD writer are as follows:
Pros:
It is very lightweight.
It has a magnetic backing.
It has a very long battery life.
The stylus of the screen is dual tipped.
It has a special anti-delete switch.
Cons:
It is available in a single colour only, i.e. Teal-Blue.
The device doesn't have an auto save option. Thus, if you delete any file accidentally, there is no backup available.
It doesn't have back lights.
3. BonBon 8.5 inch LCD Writing Tablet Doodle Board Kids Writing Pad, Electronic Writing Board, Graphics Pad, Digital Drawing Board for Childrens Kids Gifts,Elder Message Board,Family Memo and Office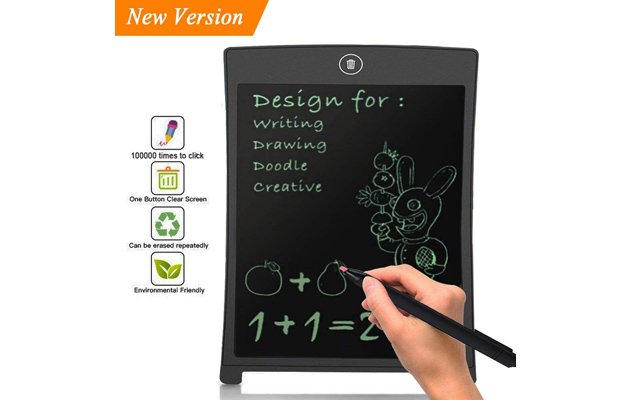 Product Description:
The BonBon LCD Writing Tablet is fun and very simple to use. It is one of the cheapest and affordable alternatives to paper and pen. The electronic message board is made up of high and best quality materials that help in making this product long-lasting.
It has a large screen size, and thus there is more space to write or draw. The BonBon Writing tablet is very lightweight and is one of the most portable tablets available in the market. It has a pressure sensitive screen. This helps in creating lines with various designs. The thickness of the lines depends on how hard you push.
Let's check out some pros and cons of this tablet.
Pros:
It is a lightweight writing tablet.
The screen is LCD and without glare and radiation. This protects your eyes too.
There is a larger space for you to write and read as compared to other tablets.
Cons:
4. XP-Pen G640 6 x 4-inch Graphic Drawing Tablet with our Battery and Stylus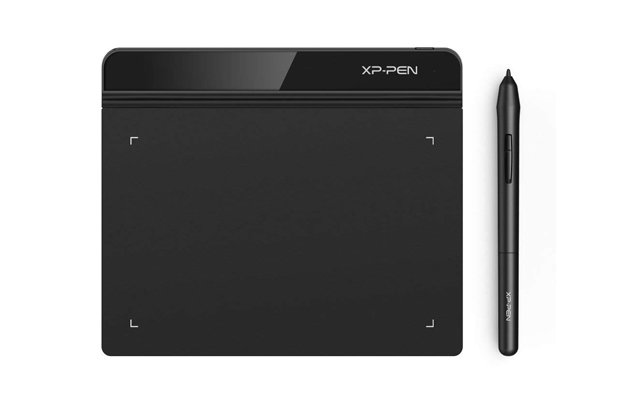 Product Description:
The XP-Pen G640 is the newest screen-less tablet available in the market. The Graphic Drawing Tablet is very minimalistic. The texture of the surface of the screen is pretty rough. This helps in providing a grip to your pen. Since the surface is rough, there are high chances that the nib of the pen can wear out. To prevent this situation, you can keep changing the pressure setting of the pen.
To solve this problem, you also get 20 replacement nibs. This puts your mind at ease while drawing and writing.
Let's check out some pros and cons of this tablet.
Pros:
The back of the eWriter has four rubber feet. They help in holding the writer in place.
It does not have any shortcut buttons.
The pen that comes along with it is very lightweight and comfortable. There are no or very few chances of imbalance.
Cons:
Not everyone is okay with the roughness of the screen.
The edges of the tablet don't look like the cleanest one, unlike other tablets.
5. Wacom Bamboo One CTL471 Drawing Pen Small Tablet for Windows and Mac including Black Standard Nibs
Product Description:
This is one of the cheapest and the most affordable Wacom Tablets available. It is available in only one color which is black and lime. The lime color at the border gives it a very classy look. The pen also looks very different when compared to other pens. It works very well and is sturdy. One of the cons of the pen is there is no eraser at the back of the pen, and you get only one replacement nib along with it. This is very less when compared to other pens.
If you are a little low on the budget, this is the best option.
Now, let's check out some pros and cons of this tablet:
Pros:
The tablet supports multi-touch feature to bring out your creative side.
It has a robust software bundle.
Its small size makes it an ideal option for people who travel frequently.
The lime color border gives it an attractive look.
Cons:
The pen which comes along with it is made up of plastic and gives a flimsy feel.
Some people find it very small to use.
The tablet has no Express key.
6. Huion Inspiroy H640P Graphics Drawing Tablet with Battery-Free Stylus and 8192 Pressure Sensitivity
Product Description:
The HuionInspiroy H640P Graphics Drawing Tablet comes in a very simple design. It has a matte finish plastic covering. The size of the tablet is very small, and thus, it fits in any bag making it extremely portable.
A slightly rough texture of the tablet prevents the pen from slipping or losing the grip.
If you check the underside of the tablet, you will find four rubber stickers which prevent the tablet from sliding while you are drawing. The edges of the tablet are curvy. Thus, it doesn't dig into your wrists while using it.
The Express keys are present at the sides. They look very attractive. The touch and feel of these keys are also very nice.
The pen that comes along with the tablet is battery-free. It is made up of a matte plastic with a soft rubber grip. The shape of the pen is very nice. It has a bulge at the bottom which prevents your fingers from sliding. It is lightweight and feels balanced all the time.
Let's check out some pros and cons of this tablet:
Pros:
The HuionInspiroy Graphics tablet is very compact in shape.
It is very easy to set up, unlike other tablets.
Cons:
It is not compatible with all the software's.
7. Improved NEWYES Colorful Robot Pad 8.5 inch LCD Writing Tablet Drawing Board Erasable Doodle and Scribble Pad Special for Kids and Adults Blue
Product Description:
The NEWYES Colorful Robot is a great choice for kids. It is a very lightweight tablet and can be easily put in a laptop case or any bag. The delete button erases the entire text at a time. It has a special erasable doodle and a scribble pad which makes it more interesting to use.
It has an easy grip stylus with a colorful screen which prevents the eyes as well.
Now, let's check out some pros and cons of this tablet.
Pros:
It is very lightweight.
It is portable.
It is best suitable for taking notes without wasting papers.
Cons:
It is specially made for kids. Adults don't find it very interesting.
8. LCD Writing Tablet,Sunany 8.5″ Drawing Tablet Gift for Kids and Adults, Electronic Writing and Drawing Board Doodle Board at Home,School and Office (Black)
Product Description:
The Sunany 8.5" Drawing Tablet is well known for its built-in sealed button battery. Thus, it gives you a long-time usage which can work with thousands of erases. The thickness of the lines depends on how hard you push the pen over the surface. It comes with two magnetic strips at the bottom of the tablet. This prevents the tablet from slipping while writing or drawing. The screen of the tablet is radiation free and glare-free. Thus, it protects your eye-sight or vision. It has an erase button lock function. Thus, you don't have to worry about losing your content.
Let's check out some pros and cons of this tablet.
Pros:
It is very lightweight and handy.
It provides a long-time usage.
It helps you draw perfect lines.
Cons:
9. XP-Pen G430S OSU Tablet Ultrathin Graphic Tablet 4 x 3-inch Digital Tablet Drawing Pen Tablet for OSU! White (8192 Levels Pressure)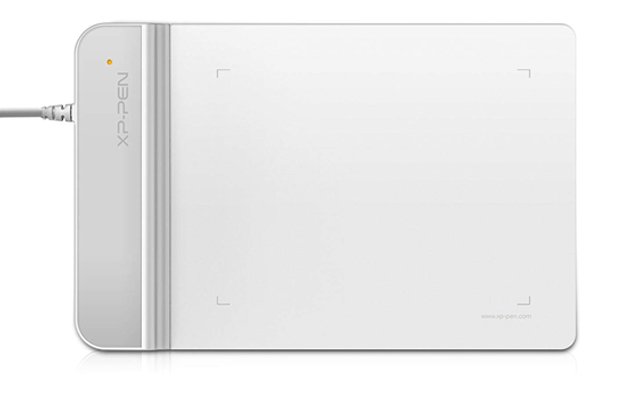 Product Description:
The XP – Pen G430S tablet offers a simple and affordable option for people who are first-time users. The package consists of the tablet, a pen that is battery-free, a pen-clipper, and replacement nibs.
Setting up the drivers is relatively simple and offers a number of options to customize the features of the tablet.
The surface of the tablet is comparatively small but has a very smooth finish. It gives a nice feel while writing and drawing. The tablet is very thin and easily portable, It is considered as one of the best tablets for artists who love to draw.
The stylus comes with two programmable buttons which can e programmed using the drivers available in XP-Pen's site. Since there is no battery in pen, it makes it lightweight, and the pen glides very well on the surface.
Let's check out some pros and cons of this tablet.
Pros:
The tablet is very thin.
It has special brightness adjustment settings.
The pen is battery-free.
Cons:
The screen size is way too small.
It doesn't come with any Express key.
10. OSU!Tablet VEIKK S640 6×4'' Digital Drawing Pen Tablet with Battery-free Pen (8192 Levels Pressure)
Product Description:
The VEIKK S640 6*4" comes in very nice packaging. The tablet is sleek and stylish. It is very thin and lightweight. The pen of this tablet is also very attractive and comes with a gray barrel and a nice felt case. The pen has no battery.
The tablet does not have any extra buttons or shortcut keys. It also has a blue LED indicator that lights up whenever you are using the tablet.
Let's check out some pros and cons of this tablet.
Pros:
It is a lightweight tablet and very portable.
It has a special setting for right-hand users and left-hand users.
The pressure sensitivity level is high, i.e. 8,192 levels.
Cons:
There are no Express keys at all.
The touch is not that great.
The screen space is not that big.
This was our list of top 10 digital handwriting pad available in the market. All the above designs are suitable for artists, designers, and architects. Pick your favorite. One thing that you need to keep in mind is any tool just needs some practice, and once you get used to it, you will surely love it.
Happy shopping!
Bestseller No. 1
KURATU 2 Pack-8.5 inch Drawing Tablet Pads Reusable LCD Writing Tablet for Kids Doodle Board Digital Handwriting Board Gifts Toys for 3-12 Years Old Boys Girls Electronic Notepad Education Systems
❤【New writing method】: Get rid of the traditional writing on paper. The LCD tablet provides you with a new writing experience. It can be used to take meeting minutes, write memos, record shopping lists or children's education, drawing, doodling or for the hearing impaired. It is the best gift for children, friends, colleagues.
❤【Protect Children Eyes】The LCD writing tablet use 8.5 inch eye protection material screen. The screen of drawing board is completely safe via the test: no glare, no radiation, no ink, no dust, paper-like vision, which can protect your kids' eyesight and keep them away from chemical pigments and dust that will stimulate their skin and lungs.
❤【Pressure sensitive screen 】: Thanks to the high-sensitivity pressure sensor technology and smooth, bright LCD screen, handwriting thickness is determined by the pressure applied, so the harder you press down on the screen, the thicker the handwriting and vice versa. Use your fingertip or other objects for lag-free writing on this electronic notepad, or write with the supplied stylus for best performance.
Bestseller No. 2
KURATU LCD Writing Tablet with Leather Protective case 10-inch Electronic Drawing Board for Adult, Elder Message Board,Digital Handwriting Pad Doodle Board for School, Fridge or Office.(Black-Plus)
①【4th generation liquid crystal pressure sensitive handwriting technology】 The handwriting is smooth, using light absorption technology, the lines of the painting look like fluorescent lines at a specific angle, and the brightness is 200% higher than that of the second generation technology.
②【Using the latest version of high-precision plastic mold】 Make the appearance more exquisite and high-end, and equipped with a silk grain leather protective shell, it is the best choice for high-end gifts.
③【Very easy to use】Use the included steel pen to write or draw. With the 4th generation LCD panel, the writing is smooth and silky. You can erase the full-screen images and words at the touch of a button. It also has a screen lock Function to prevent accidental erasure of important files, it also has a power switch, which can be turned off when not in use for a long time to extend battery life.
Bestseller No. 3
Bestseller No. 4
Richgv LCD Writing Tablet 15 Inch Electronic Graphics Tablets Doodle Pads Digital Ewriter, Portable Drawing Board for Kids and Adults at Home, School Office Business Handwriting Pad
✍【Big Size LCD Writing Tablet】With a 15-inch pressure sensitive LCD screen, you can draw the lines of varying thickness with the included stylus or anything pointed but not too sharp, even your finger nail. Without radiation, no glare, the drawing pad is perfect for quick sketches, calculations, office memo,shopping lists,family reminders or for toddlers to practice drawing
✍【Erase and Lock】The writing pad is waterproof and anti-fall, no need to worry about accidental dropping and liquid pouring on the screen.Made of high-quality plastic material, 15-inch big screen but weighs only 0.61lb. Light and quite durable so you can easily bring this anywhere with you.Click the erase button of the drawing board to clear the screen content in one second.With "lock" function to prevent accidental erasing.You can also take a pic on your mobile for the permanent record
✍【Eco-friendly LCD Doodle Board】The drawing doodle board can be writing 100,000 times, saving trees by using an reusable drawing tablet instead of paper, the drawing pad comes with built-in battery which has 6 months life span, can be replaced when exhausted, without charging or plugging in power
Bestseller No. 5
HUION H420 OSU Graphics Drawing Tablet Signature Pad with Digital Stylus and 3 Express Keys
Huion H420 is an affordable graphics tablet with responsive digital pen, perfect for kids and beginning artists to draw,sketch,edit photos. It lets you draw and write naturally and comfortably as you would on real paper.Suitablet for both left and right handed users.
It also can be used for playing OSU game. No need to install driver. Just plug and play!H420 digital drawing tablet is only 7mm in thickness and 165g in weight. Slim and compact design with an active area of 4x2.23 inch makes it perfect for limited desktop space and easy to carry out when on a trip.
H420 drawing pad can replace the computer mouse and keyboard to enhance your work flow. You can use it handwritten edit,diagram,annotate on whiteboard in Zoom, Team and Xsplit while streaming or broadcasting or in Word, Powerpoint, OneNote and more for taking notes,signing document,jotting down ideas while web conferencing or remote working.
Sale
Bestseller No. 6
JONZOO LCD Writing Tablet for Kids, 15 inch Electronic Digital Writing Tablet, Doodle Scribbler Pad, Digital Memo Notepad Handwriting Tablet, Paperless Message/Drawing Board, Blue
Great replacement for traditional blackboard: ink/chalk-free handy electronic blackboard with 15 inch big writing/drawing area, very convenient office tool for quick meeting/brief presentation/discussion.
Latest LCD Tech: Jonzoo writing tablet uses the latest high sensitivity LCD panel, no radiation, no flickering, it reflects natural light. As a digital pad, it needs no ink or chemical pigments. Completely harmless to the eyes and skin.
Super Easy to use: write and draw directly on the LCD screen with the stylus (included in the package) or other proper objects, even with your nails. A simple press on the bottom button to clear all the mess from the screen. This drawing board is also with a screen lock key to save your works from accidental removal.
Bestseller No. 7
JRD&BS WINL 8.5" Colorful Electronic Drawing Pads for Kids, Portable Reusable Erasable Writer,Elder Message Board,Gifts for 4-8 Yr Old Boy for Digital Handwriting Pad Doodle Pad Blue
✧How Fun & Unleash your childs creativity: How interesting! With LCD Writing Tablet,Your kids can freely release their natural instincts, enjoy painting, count numbers, spell words, scribble, doodle at any time and place without no longer making a mess on the ground or walls
✧Advanced Technology : This version screen adopting the newest LCD pressure-sensitive technology ensures writing is smooth and in high precision, Large LCD Screen writing tablet allows you to write enough contents and promises you to writing freely. The Stylus has 3 different pen tips for multiple occasion to provide painter's excellent drawing experience.
✧Very Easy to Use:Writing and Drawing on LCD tablet just like on the paper. Erase full screen images and words with only touch of a button fast, easy. Use lock screen funtion to prevent accidental removal of important information. Small, Portable and durable easy to carry, The drawing tablet is built in sealed button battery(replaceable), which can work Long time with Tens of thousands of erases!
Bestseller No. 8
Bestseller No. 9
Bestseller No. 10
Related Articles