Are you a frequent flyer? Do you always complain of neck or shoulder pain while traveling? Fret not. We understand your pain.
Finding the best traveling pillow is quite a tricky thing because not every travel pillow is created equally. Some of the essential components that one must consider while purchasing it includes how convenient it is to carry along with your luggage, how comfortable it is and one of the critical pointers – how supportive it is. There are many types of travel pillows available on the market. Some are "U-shaped" that correctly goes around your neck while there are rectangular shaped pillows available too. Some are inflatables, and some are foam based. The more you dig in, the more creative options you will get.
To help you with your next purchase, we welcome you to the wonderful world of travel pillows. Pick your favorite! And we guarantee you, your neck and back are surely going to thank you!
What Are The Best Travel Pillows?
1. Air Comfy Inflatable Neck/Lumbar Pillow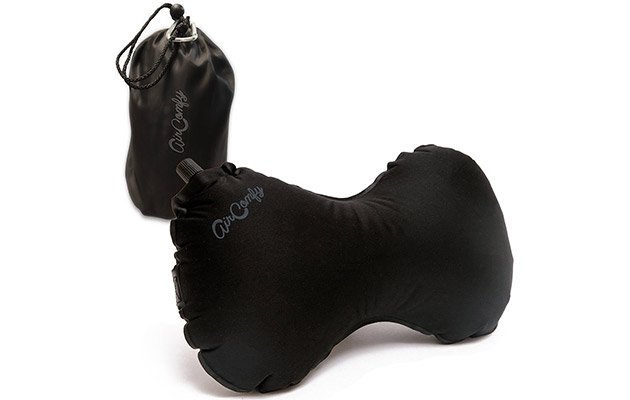 The AirComfy Neck/Lumbar Pillows mostly targets the travelers who often complain of lower back pain. It is entirely different from the regular wrap-around pillows and instead is a clever combination of self-inflation and foam that makes it one of the most impressive travel pillows.
The fabric is soft and velvety and comes with an elastic band/strap that you can easily tie to a chair or a headrest.
It weighs less than half a pound and comes with a storage bag which you can clip outside your carryon or your luggage bag.
2. BCOZZY Chin Supporting Travel Pillow
The BCOZZY travel pillow is the only travel pillow that prevents your head from falling forward. It provides a right amount of support as it's overlapping ends wraps properly beneath the chin along with stabilizing your neck.
The pillow is very light in weight. Since it is slim, the pillow doesn't push your head away from the headrest or in the outward direction. It is an excellent pick for anyone who wears over-the-ear large headphones while traveling.
3. Trtl Pillow – Scientifically Proven Super Soft Neck Support Travel Pillow
With its soft fleece wrap and structured neck support, Trtl travel pillow is a scientifically proven travel pillow that keeps your head and neck in a better position. It has an extra cozy cushioning that creates a comfortable place to rest for your neck and head. It looks like a scarf and can be adjusted easily according to your comfort. It's a very lightweight pillow (less than a pound) and is very easy to carry. It is one of the best alternatives to ditch your old and bulky travel pillow!
4. J-Pillow Ultimate Travel Pillow, British Invention Of The Year 2018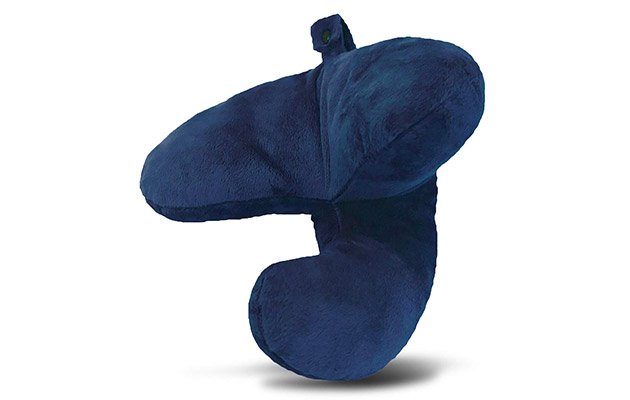 If you are a side sleeper, then this is probably the best travel pillow for you. The J-pillow is one of the best-selling travel pillows available on Amazon. It is soft, comfortable, and can be used in multiple forms. The pillow supports your chin well and provides support to your neck by filling in the gaps between the head and the shoulder. This super soft and horseshoe-shaped pillow is the winner of the British Invention of the Year, 2018.
One of the disadvantages of this pillow is that it is not very easy to pack and carry because of its shape.
5. AERIS Travel Pillow
The AERIS travel pillow comes with a travel case which includes two black foam earplugs and a sleep mask that blocks out the light. The U-shaped memory foam travel pillow provides the users with a custom and personalized fit.
The AERIS travel pillow has some amazing and cool features. The memory foam has in-built ventilation holes that keep the air flowing throughout the pillow and thus, doesn't trap much of your body's heat. The pillow is sure to offer a comprehensive, and comfortable travel experience.
6. Travelrest – The Ultimate Inflatable Travel Pillow/Neck Pillow
The Travelrest travel pillow looks very different from other typical travel pillows. It's detailed features, and unique design provides a very comfortable experience in all the positions. With it's rounded back, the pillow offers full lateral support to your upper body and prevents your head from falling forwards. If you are suffering from chronic body pains, then this is the ideal travel pillow for you.
The pillow comes with a minimal and neat packaging with detailed and illustrated instructions. It is easier to deflate, roll, and pack it with your luggage.
The only complaint with this pillow is if you have a shorter neck then it can push your over-ear headphones off of your ears.
7. Cabeau Evolution Memory Foam Travel Pillow
Cabeau Evolution Pillow is one of the best choices for people with shorter necks or for people who look for a more constricted fit. It comes with an adjustable string closure that lets you fit or adjust the pillow much tighter around your neck. Overall, the pillow is very well-constructed with vents on either side of the pillow. The vents allow increased airflow while you are sleeping. It also has a moisture-wicking cover that prevents you from waking up with a damp neck.
8. Kmall Compact Travel Pillow – Summer Cool Inflatable Neck Pillow
The Kmall Travel Pillow is one of the best travel pillows for someone who is looking for something inflatable and portable. It provides a luxurious comfort while traveling as the cover is made up of an ultra-soft cover. The pillow comes with a unique feature called Push Button Inflation which helps in quick inflation and deflation. This feature also prevents the spread of bacteria as you don't have to inflate it using your mouth.
It comes with a built-in pocket where you can keep your eye mask, wallet, keys, and other valuables.
9. Comfortable Travel Pillow
Keep all the discomfort and neck pain at bay with this amazing travel pillow with a unique ergonomic thermo sensitive memory foam. It is very versatile and provides extra support to your neck and back. It is easy to carry and comes with an elastic strap and a velvety washable cover.
10. MLVOC Inflatable Neck Pillow with Ear Plugs, Eye Mask, and Drawstring Bag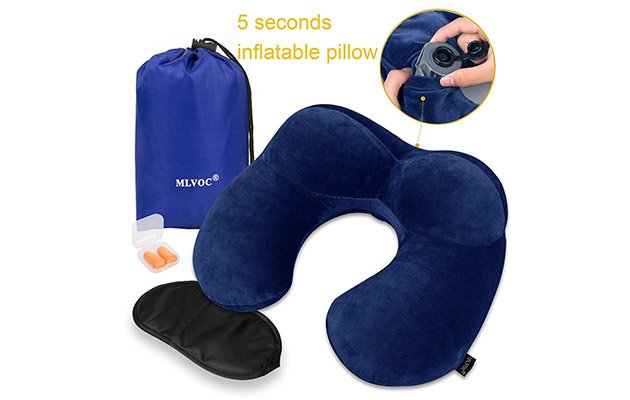 It is an inflatable neck pillow which comes with humps that prevent sideways movements. It is one of the cheapest and the best travel pillows available in the market. It offers an easy to use valve which helps in easy blowing up. You can even use a pump to inflate the pillow. The pillow prevents side-to-side swaying and supports your head in a better and comforting vertical position. As a bonus, you will get a pair of earplugs and sleeping mask for uninterrupted sleep.
How To Buy A Travel Pillow – Buying Guide
Traveling can be a tiresome activity, especially if you are traveling for long hours. A travel pillow can be a saviour in such journeys and help you catch some z's in the meanwhile. An ideal travel pillow must be light in weight and should be easy to store/carry. Some travel pillows are made up of plush fabrics while others are made up of lightweight foams. For better portability, these pillows are filled with air that can be deflated whenever not in use. If you are wondering what the different types of travel pillows are, we are here to help you out. Mentioned below are the different types of pillows. Have a look!
1. Inflatable Travel Pillow
These pillows are generally U-shaped and can be blown up according to your level of optimum firmness. They are light-weight and extremely compact which makes it a more comfortable and convenient option for light packers as they can be quickly deflated and packed along with your luggage. These pillows often come with a fabric cover.
2. Microbead Travel Pillow
These U-shaped lightweight pillows are filled with small polystyrene beads. These are not considered as very comfortable ones as they don't really sit up correctly on your neck and can have some uncomfortable dips due to the beads that are filled inside the pillow. These pillows are not very portable, making it a difficult and an awkward choice for light packers.
3. Memory Foam Travel Pillows
These types of travel pillows are made up of high-density memory foam that provides the most consistent and firmest neck support. When not in use, these pillows can be compressed to half of their size and clipped along with your luggage. It is one of the most comfortable designs available in the market as the memory foam mould the shape according to your neck.
Who Should Use A Travel Pillow?
A good travel pillow can make a lot of difference, especially if you are on long trips. They help you provide support to your neck and upper body and prevents you from a cramped or uncomfortable plane ride.
Along with plane rides, these travel pillows can also be used while traveling in cars or train.
If you are suffering from neck discomfort or chronic pains, you can even use these pillows while sleeping on your bed. Older people find travel pillows very comfortable as it provides optimum support to their neck.
How Do You Wash A Travel Pillow?
Just like any other standard pillow, the travel pillows also need to be washed after a while. Though all the pillows are made up of different components, each one can still be washed in a way or other. Some pillows can be hand washed while some can be machine washed or surface washed, depending on the texture and material out of which the pillow has been made.
Can You Put Travel Pillows In The Washing Machine?
If you are too lazy to wash a pillow with your hands, you can always wash it in the washing machine. The only thing you need to make sure that you do not use very hot water and use a mild detergent
Conclusion:
Traveling can be tiring, especially if your destination is a long way away. Some amount of rest during this time can be really helpful and thus, if you are a frequent traveller, investing in a good travel pillow can prove out to be the right decision. We presented to you our list of top 10 travel pillows. Choose one as per your convenience and enjoy a comfortable journey ahead!
All we would like to say is take care of your travel pillow so that it can take care of your neck. No more crick in the neck, a nagging headache or a sore lower back. Happy flying!
Image Credits: Amazon.com
Related Articles: