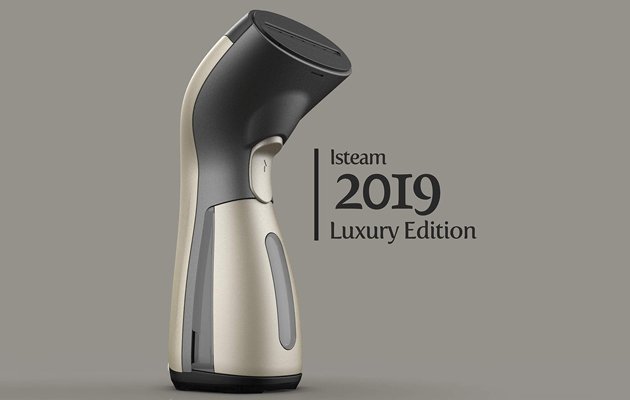 Have you ever heard of wrinkle anxiety? Did you ever have one?
Believe it or not, wrinkles or creases on the clothes are very unflattering. Imagine being stuck in such a situation while you are travelling on a business trip or a holiday! Scary, right? Whom would you call for rescue in such a situation? Or shall we instead rephrase it as what would you look forward to?
To help people with this wrinkle-phobia, there is an amazing thing available in the market which is called as travel steamer.
If you haven't used a travel steamer before or if you are looking forward to buying one, we are here to help you buy the best available options. Before that, first, let's check out what exactly is a travel steamer and how does it work.
What Is Travel Steamer? How Does A Travel Steamer Work?
Travel steamers are nothing but handheld steamers which can help you get rid of smooth wrinkles or creases from any type of fabric. Because they are so small in size, they are very easy to hold and carry it with you while you are travelling.
The moment you turn on a travel steamer, the steam that comes out of it starts working on the fabric by loosening the bonds between the long-chain polymer molecules. It works really great on de-wrinkling the fabric and making it ready to use.
Mentioned below are our product reviews for the best travel steamers to make your next purchase easier!
10 Best Travel Steamer Reviews In 2019
1. URPOWER Garment Steamer
While talking about travel steamers, the URPOWER Garment steamer tops the list. It is very compact in shape and is quite affordable. If you look at its size, it is actually smaller than an iPad and can easily fit into your luggage. But, don't go by its size because the little machine does its job very well. All you need to do is fill up the tank and switch the plug on. The unit starts heating within two minutes and then you can start steam ironing your fabric with it.
It has an automatic shut-off option that shuts off if the steamer becomes very hot or if the steamer is running out of the water. It has a 130 ml water tank that helps you to use it for a minimum of 7-8 minutes continuously. In short, it is a small and powerful steamer.
2. Pure Enrichment PureSteam Portable Fabric Streamer
The Pure Enrichment PureSteam Fabric Steamer is a portable travel steamer that heats up in less than two minutes. It comes with an 8-foot cord and two years warranty, making it a reliable and safe purchase.
It has some fantastic new features. The nozzle present at the top helps in distributing the steam evenly and powerfully. You don't need to carry an extension cord along with it as it has a very long cord. The Pure Enrichment PureSteam Portable steamer comes with a special feature called as heralded shut-off functionality. It prevents the steamer from getting very hot. It has one of the highest consumer ratings and is one of people's favourite.
3. Conair Extreme Steam Held Fabric Streamer With Dual Heat
The Conair Extreme Steam Held Fabric looks really cool and is a perfect go-to steamer for those who always run last minute. Its unique design makes it a favourite buy amongst people. It has a curvy handle which makes it easy to hold and iron a bunch of clothes.
The water holder is transparent which lets you know how much water is left in the tanker. This also gives you an idea of how much water you require to steam iron a particular cloth.
It has a dual-heat technology which helps it with improved performance and precision. The gadget heats up almost 30% faster than any regular steamer and gives you a wrinkle-free garment within no time.
4. Bizond Mini Steamer For Clothes
The Bizond Mini Steamer heats up really fast. The manual says it heats up in 25 seconds. So, by the time you take out your cloth, the steamer is ready to use. If the steamer is not in use for more than 5 minutes, it shuts off automatically.
One of the most amazing features of this garment is that the steam penetrates deep into the fabric and thus, kills the bacteria that causes odour. So, no more wrinkled and smelly clothes with this amazing steamer.
Some steamers leave wet footprints on the cloth. A special electronic pump system in this steamer prevents the steamer from spitting water. It also has a water purification element that helps with the maintenance of the product. You don't have to worry about that too with this steamer. It works in all the angles (including the inverted angle) without any leakage. Despite its small size, a one-time full tank can give you 10 minutes of steam.
The Bizond Mini Steamer is a handy, lightweight steamer that comes with a nano polymer filter. The only drawback of this steamer is it doesn't have a dual voltage feature. It is an excellent option for those who are always on the go but don't expect it to work on very deep wrinkles. But, to get your job done, this is an amazing option.
5. Beautural Steamer For Clothes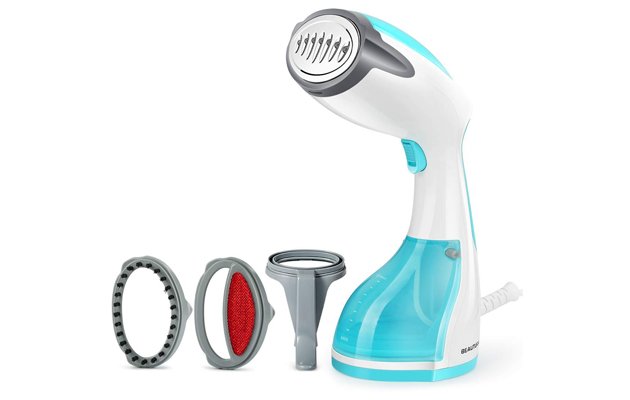 The Beautural Garment Steamer is a very portable solution to help you get your clothes ready in a jiffy. The steamer heats up very quickly. It takes hardly 30-35 seconds to pre-heat and can provide continuous steam for around 14-15 minutes. This ready-to-use bag is a great and safe option to use at both home and while travelling.
The steamer works on all the types of fabrics and gets you rid of creases from your dresses. It is very easy to use, and all you have to do is fill the water in the tank and switch it on. It has a power capacity of 1200W and gives you fresh clothes instantly.
There is a specialized auto shut off functionality for safe usage and to prevent burns and blisters. The machine shuts off automatically after eight minutes of inactivity. It also has a lock button which helps you provide continuous steam and thus, you don't have to press the trigger again and again.
It does not leak no matter what angle you use the steamer in. Apart from clothes, you can use it on your clothes or sofa or any leather fabric. The steamer is easy to pack, and you can carry it wherever you want to. The power cord is very long and pivots 360°, and thus, you can use it in all the angles.
Though it is a great steamer, this tiny steamer does not work on heavy and deep wrinkles.
6. Luxury Edition Steamer Technology [2019] 8-in-1 Powerful Multi-Use by iSteam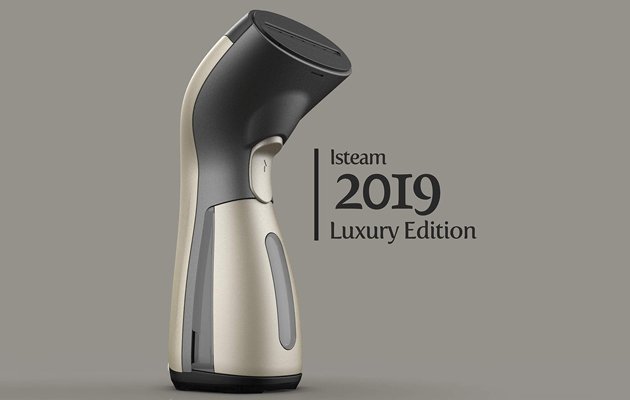 Now don't let those tricky creases and wrinkles on your clothes ruin your trips with this amazing garment heater which heats up in only 25 seconds. Not only this, but the steamer also gives smoothing steam for a total of 10 minutes continuously.
It is powerful enough to work on each and every wrinkle present on your cloth and make it fresh and ready-to-use within seconds. Unlike any ordinary steamer, the Luxury Edition Steamer by iSteam doesn't leak or spurt water. Thanks to its electronic pump system that saves the water from spitting or ruining your clothes. The revolutionary 360° feature helps you in ironing or unruffling the clothes in every possible angle.
It is a feather-light steamer which is made up of a nano polymer filter. This filter helps in purifying the water and preventing the calcification within the water tank, which in fact is a major issue when it comes to garment steamers.
Get a steamy and spill-free result every time with this fantastic travel steamer.
7. PAX Powerful Clothes/Fabric/Garment Steamer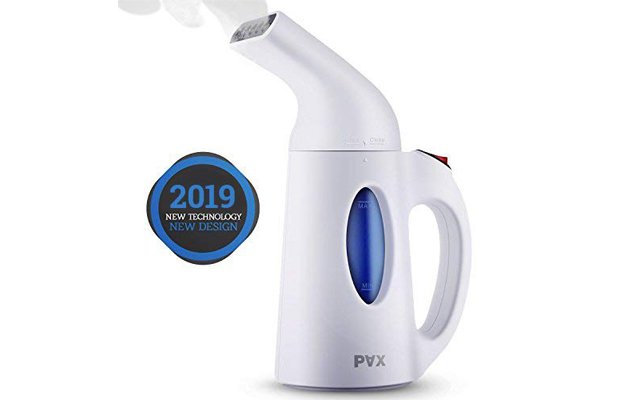 Calcification is one of the most significant issues with garment steamers. Thus, many people prefer using distilled water in the water tank rather than using tap water to prevent clogging. Though it is easier to remove the buildup by removing the head and cleaning it, some steamers are not designed to be cleaned. PAX Powerful garment steamer solves this problem of yours as it comes with a removable head. You can remove it and soak it in water for some time, clean it, and then put it back at its place.
The steamer heats up in less than a minute and works continuously for 10 minutes. It also has an automatic shut-off option which helps in preventing the device from overheating. This compact and easy to use steamer comes with a long cord and can be used on any fabric.
8. Secura Instant-Steam Handheld Garment and Fabric Steamer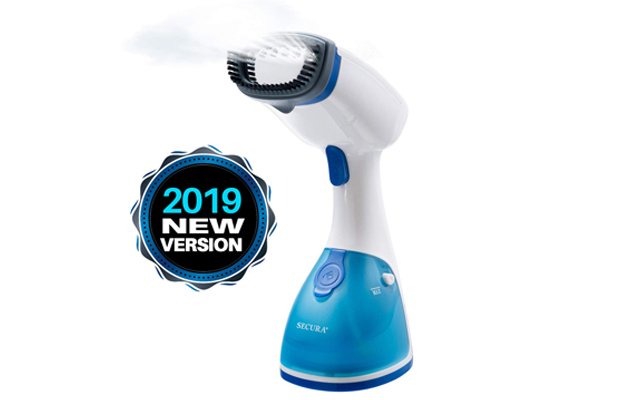 The Secura Instant-Steam Handheld Garment and Fabric Steamer is one of the best travel steamers available at a very reasonable price. This unique device tackles with all the wrinkles on your clothes within 15 seconds of turning it on. It is a very lightweight steamer and convenient to carry around. It is one of the most reliable products as this 1000W handheld steamer comes with a two-year warranty and makes your laundry look crispy and smart.
It has a long 360° rotating non-bind cord that makes it convenient to use in any angle. The only con of this product is it is suitable for use only with the North American Electric standards.
9. Steamer For Clothes By Evening
This mini steamer is a perfect garment steamer to carry along with you. Its unique design helps in preventing leakage or spilling. Also, it has a mark which tells you till where you must fill the water to prevent leakage. This 850W steamer starts emitting the steam within 60 seconds of turning it on.
The nozzle of the steamer is streamlined in shape. There is a temperature controller inside which prevents the device from overheating. With a 110ml water tank, the steamer lasts for 10-12 minutes and works great on stubborn wrinkles.
One of the disadvantages of this steamer is the angle between the horizontal line and the fuselage should not tilt beyond 60° as it might lead to water leakage.
How To Choose A Travel Steamer? – Clothes Steamer Buying Guide
Here are some pointers that you must keep in mind while buying a travel steamer.
Look at the size of the steamer and make sure it is compatible with your luggage bag. An ideal travel steamer must take minimal space and do not add extra weight to your luggage.
A travel steamer comes in different shapes – rounded ones, thinner and longer ones, and wider ones. The longer ones are supposedly easier to use but do not produce as much steam when compared to the wider ones. Always check at the size of the vent. The wider the vent, the more steam it generates.
Look for a steamer with dual-voltage as it works with different voltage levels and outlets.
Always check how long it takes to heat at the highest levels. An ideal steamer should heat up in not more than 2-3 minutes.
Chose a steamer that fits properly in your hands so that you should feel comfortable while holding it. It must not be heavy or bulky.
An ideal travel steamer must have a removable water tank and must have a good water capacity.
How Do You Descale Clothes Steamer?
Like any other water or steam-based product, clothes steamers also require frequent maintenance. Thus, to ensure its longer life and to maintain its productivity, you need to clean and descale your steamer on a regular basis.
To descale your cloth steamer, turn off the steamer and let it cool down completely. Now disassemble the steam hose and the pole and empty the water tank. Wash the tank by rinsing the water 2-3 times. Let the steamer dry completely and assemble all the parts again. And voila, the task is done!
Can I Bring A Clothing Steamer On A Plane?
Yes, you can carry a garment steamer on a plane along with you. But if you are travelling abroad, you will have to carry either a dual voltage one or a steamer that comes with a converter.
Difference between Travel Steamer Vs. Regular Steamer?
Though both serve the same purpose, travel steamers are not as powerful as regular steamers. If a regular steamer range around 1750-1800 watts, a travel steamer ranges between 700-1200 watts. This means that it takes a bit longer to steam out the creases and wrinkles. Because of a comparatively lower voltage, a travel steamer might not work on stubborn creases.
If you are used to a regular steamer, you might find it a bit frustrating to use a travel steamer as it is comparatively slower. But it does serve your purpose.
Now, make sure your outfit is Insta-worthy every time you step out of your house. We hope you found these reviews helpful.
People Also Interested In: