Are you a travel junkie? Are you always on the go and always in search of accessories that complement you with this hobby of you?
Our generation is moving quickly, and as a result, we are constantly moving from one place to the other. The advent of digital accessories such as laptops, mobile phones, and other digital assistants has made us even more mobile. The technology is advancing day by day, and in this digital and portable world that we are living in, there is another amazing thing developed by our techno-men – i.e., a Solar Backpack.
These solar backpacks are the latest travel gadget that makes sure you always stay connected. Though the functioning of these solar-powered backpacks sounds complicated to you, it is quite simple. The photovoltaic cells make all this happen.
Since solar power is free, why not make good use of it and charge our portable devices with these amazing solar backpacks. There are a number of such bags available in the market, but all are different in their own genre. To help you find a portable power source, we have rounded up some of our favorite and the best backpacks with amazing features. Check it out!
10 Best Solar Backpack Panel Review
The ECEEN Hiking Backpack is one of the best-selling backpacks available in the market. It comes with a solar panel of 7 Watts and has a battery of 10,000mAh. When fully charged, it can charge 4 smartphones to a 100% battery. It has a removable solar panel that can be removed and cleaned frequently. You can also adjust and fit the panel in an appropriate angle facing the sun.
The backpack has multiple compartments and pockets to make sure you put all your essentials in it, and they do not fall while you are hiking up and down. The bag is made up of PVC material and has a space of 42 liters. The PVC material is sensitive to sunlight and protects your bag from adverse weather conditions. It also has a 5V USB cable and charging port.
It has an optional hydration bladder and weighs around 3.5 pounds. Users really love the sleek design and storage capacity.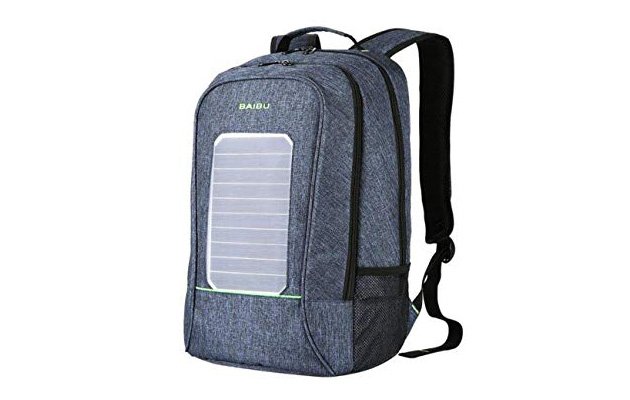 BAIBU Waterproof Solar backpack is a perfect bag for any outdoor activity. It is a water-resistant bag and has an amazing anti-theft packet at the back. With this backpack, you don't have to carry a power bank or any other power backup with you. You can directly plug it to the solar panel via a USB cable. The outer fabric of the bag is made up of a water-resistant material which provides protection from rain. The bag has multiple compartments and pockets. It also has a dedicated section for a laptop (up to 15 inches). The bag has a solar collector with frosted PET.
The maximum output current of the solar panel is 5.3W, and it takes around an hour to charge the battery up to 15-20%.
The DTBG solar charger backpack is made up of a high-quality oxford material with a polyester lining. This weather-resistant outdoor bag is made up of PVC fabric, and the solar charger is covered with a hard and protective anti-scratch coating. The solar panel available on the bag converts the solar energy into electrical energy and this, in turn, helps in charging your phone or other electric gadgets.
This bag has multiple pockets including a zipper pocket, and four open pockets. It also has an anti-theft pocket at the back.
Unlike other solar backpacks, you cannot remove the solar panel. It weighs around 2.5 pounds and has a lot of space. Make sure you keep the solar panel under strong sunlight so that it gets charged quickly.
The EnerPlex PK-ALPHA-OR Packr Backpack has a 3 Watts output solar panel. It is flexible enough to charge your smartphone or any other electric gadget. The backpack doesn't have a battery, and this is why it cannot store a lot of power to charge larger devices. There are multiple compartments in this bag, therefore making extra space for your travel luggage. It also has a laptop sleeve with a charging point inside the bag.
One feature of this bag makes it different from others. Unlike other travel bags, the EnerPlex backpack looks like an official bag and thus, can be used both while traveling and for office too. To ease the pressure on your shoulder, it has padded shoulder straps. This bag weighs around 2.2 pounds and can carry 30 liters of luggage. For a water bottle, it has 2 side storage pockets.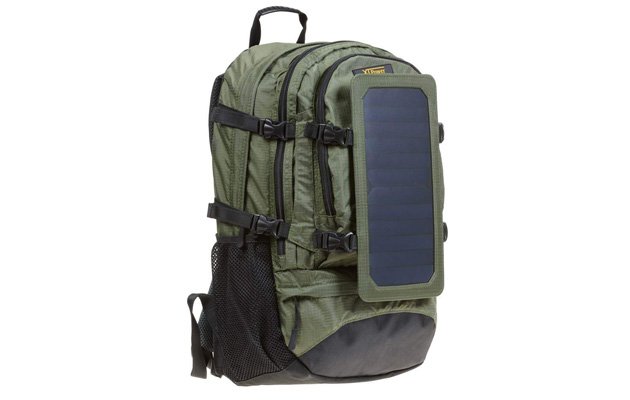 The XTPower hiking Solar Backpack is a very lightweight, flexible, and robust backpack which is perfect for both traveling purpose and daily use. The solar panel present on this backpack has a higher solar radiation uptake when compared to other normal solar modules. This helps in producing more power. The solar charger is compact and can be removed; thus, it is quite flexible. You can remove these solar panels and keep them directly under the sunlight.
It has adjustable straps, and the fabric is also durable. The backpack comes in a classic shape and has multiple pouches. You can stuff a lot of things in the main compartment, including a laptop, iPad, notebook, gadgets, etc.
The backpack has 7 Watts of solar cells with an efficiency of 22%. These cells are protected by a scratch-resistant surface made up of PVC fabric. It provides optimal fastening to the backpack.
The XTPower hiking solar backpack is known for its high quality and the great customer service that it provides.
The SUNKINGDOM Solar backpack has a very highly efficient 12 Watts solar panel which helps in converting solar energy into electrical energy faster. It has an airflow back design which is made up of thick but soft padding which is multi-panel and ventilated. This provides your back with an optimum amount of support. To relieve the stress of your shoulder, it has adjustable straps. The backpack comes with a dual USB port design – 1 port is inside the backpack whereas the other one is on the shoulder strap. These 2 ports make it very convenient to use to the users.
The bag is made up of durable and environment-friendly nylon fabric. It has "S" curved shoulder strap. It has a lot of storage space, and you can hold many things including a 17 inches laptop.
The Hanergy Hiking Solar Backpack comes with a built-in 10.6 W solar panel. The product has some amazing reviews on Amazon. The solar panels are made of water-proof and anti-scratch material. It is very flexible, thin, and lightweight. This built-in solar panel is made up of high transfer effective technology. It needs only 2-2.5 hours to get charged fully.
To provide safe charging and to protect your devices, it has a voltage stability controller inside the panels.
The backpack has 2 USB ports and is made up of a durable, eco-friendly fabric with a nylon fabric. The bag has multiple compartments and a dedicated compartment for laptop or iPad. The best part of this backpack is it comes with a 12-month warranty and is famous for its amazing customer service.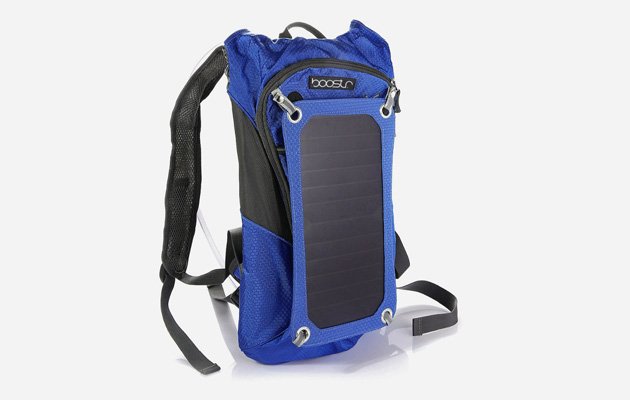 This waterproof and UV resistant backpack weighs around 2.5 pounds and has a solar SunPower capacity of 7 Watts. Made up of a resistant and washable fabric, this backpack adapts to all the lifestyles. The solar panel can be removed easily and can be put under sunlight for charging directly. It is very light and compact and is best suitable for daily use and outdoor activities. The backpack offers a large space to stuff in your essentials along with providing charging to your electronic devices. It has a 5V USB port and has a bladder capacity of 1.8 litres.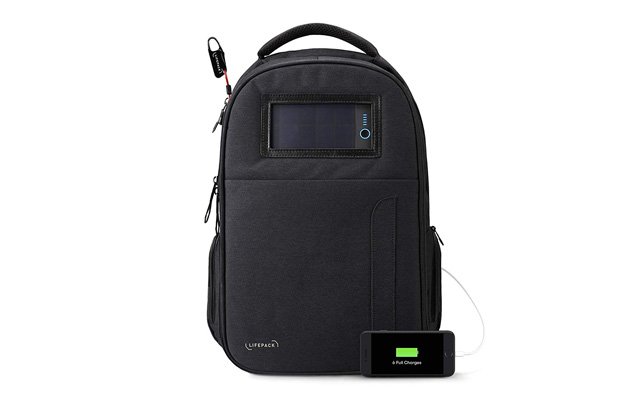 This solar-powered anti-theft backpack has a USB solar charger that maintains the job of keeping the battery of your phone pumped with power. It is designed in such a way that you can carry it to your office too. Some users claim that if charged fully, the charger is capable of charging your phone to a battery level of 100% up to 12 times. Isn't that amazing??
It has an integrated lock system that keeps your belongings safe and secure. There are multiple compartments in the bag and dedicated compartments for your clothes and other office stuff. You can easily put a 17 inches laptop in this bag.
The backpack has a total of four hidden compartments to make sure you are traveling safely. The backpack makes sure that you don't lose touch with your everyday tech life along with providing you anti-theft security.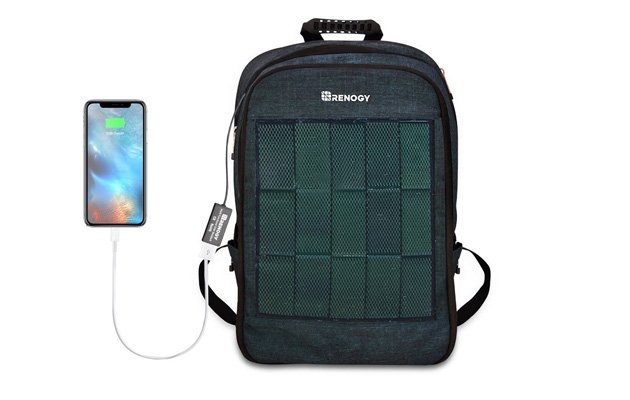 The Renogy Solar Panel Backpack is light and a water-resistant backpack that can survive harshest of the weather conditions. It claims that it can charge a phone in less than 3 hours. It is made of high-quality material with a 5.6 Watts solar panel. It has metal zippers and the fabric is made of high-quality cationic dyed polyester. It also has a 5 Volt USB port to make sure all your electric gadgets are well charged.
The backpack has a capacity of 20 litres with specially designed pockets for keeping your laptop, books, iPad, and other essentials. The solar panel is strong enough to withstand shocks and minor punctures. The backpack has well-designed and padded shoulder straps that help in making your trekking a comfortable experience.
How To Choose The Best Solar Backpack?
With these many options, it is very important to know which solar backpack is the best option for you and fits your requirements. Mentioned below are some of the pointers that you should keep in your mind before buying a solar backpack.
1. Weight Of The Backpack
If you are going on an overnight trek or a small journey, it might not matter much, but a convenient bag must not be too heavy so that you can accommodate your other stuff. A heavier backpack is always a no-no.
2. Solar Power Capacity & Battery Power
One of the important features that you must consider before buying a solar backpack is its solar capacity. The solar capacity makes these backpacks different from normal hiking backpacks.
The selection of power capacity again depends on your usage and attachment with your electronic devices. Some people prefer using it in emergency situations while others rely on it completely.
Some backpacks provide enough energy to charge your smartphones and can be used in emergency situations.
On the other hand, some backpacks are efficient enough to charge your camera, GPS, and smartphones. Some backpacks also capable of charging laptops.
Choose your type and select your backpack wisely.
3. Size and Capacity
This again depends on your hiking style. The size and capacity of the hiking back are directly proportional or related to its use.
For shorter hikes or for daily usage, you can go with a normal-size backpack which is smaller but a bit heavier. But if you are doing some serious hiking or going for a long trip with plenty of stuff, a lighter yet larger backpack becomes a necessity.
4. Budget
This is the most important factor which comes under role while purchasing anything. The pricing is always an important factor, but when we are talking about outdoor gear, we should always invest in good products rather than wasting on any product.
When it comes to solar backpacks, the expensive bags are usually lightweight, better quality, and are highly durable. Consider backpacks as an important investment, and it will be useful for years.
Since there are several options available in the market, we hope you find these reviews wisely and buy the best one.
Related Articles