Mosquitoes are the most annoying insects all around the globe. Not only are they irritating, but they also carry many illnesses which can be deadly too. Thus, it is very important to protect yourselves from mosquitoes, especially during the night in your campsites as they are most active and vulnerable.
If you are backpacking, a good mosquito net must be a part of your essentials and the travel kit. It protects you from the mosquitoes and the insects that might want to join you and bug you. To help you buy the best mosquito net for you, we have shortlisted ten products. Have a look!
10 Best Mosquito Net For Travel Camping
The DIMPLES EXCEL Mosquito Net is one of the best options for people who love to travel light. It is a streamlined net with a hanging point in between. You can insert the net at the bottom of your bed or mattress to ensure that mosquitoes do not enter inside the net. One of the best features of this net is its asymmetric shape. It forms a rectangular shape at the bottom and the top. It looks like a pyramid, but not in the center. The net is extremely lightweight and portable and weighs only six ounces.
The SANSBUG Pop-Up Mosquito Net is a perfect net for single-person use. It pops open instantly into the desired shape and does not involve any hassle of assembling the parts. It has a polyester mesh with a tarp floor that protects you against the bed bugs or mosquitoes. It is a lightweight net that can be used both indoor as well as outdoor. The best part about this mosquito net is the fiberglass poles that offer stability and durability to the product. Since there are chances that poles might splinter while folding, you get a video tutorial along with it.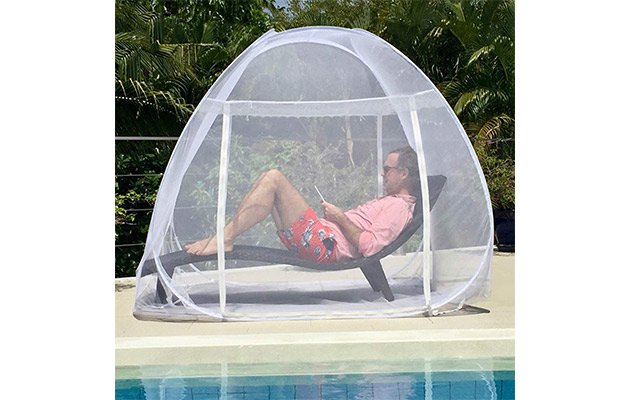 The EVEN NATURALS Pop-Up Mosquito Net is a premium quality net that fits perfectly on top of a queen-size bed and a king-size bed. It has a fine mesh with 289 holes per square inch, which helps in protecting you against tiny mosquitoes and insects. The net offers all the luxury features including a premium-quality fabric, a strong carry bag which makes it a portable net. It is finished with lace which gives the net a romantic touch if you intend to use it in your bedroom. The setup process is very easy as the frames can be adjusted manually.
This is one product that stays true to its name. The MEKKAPRO Mosquito Net is an ultra-large net that is big enough for most uses. It is a white-colored mesh that can easily cover a king-size bed. It has two large openings on two sides of the net and can even be used over a hammock. It is a great product with amazing quality at an affordable price and can accommodate more than two people inside. It also comes with a hanging kit and a plastic pouch.
The RRDF Camping Hammock with Mosquito Net is one of the best mosquito nets in the market. Since it is made up of high-quality nylon material, it is one of the most comfortable nets that you can find. The installation process is very easy, and you get everything that is required to set it up within the package. It is a simple, portable, and lightweight mosquito net that can be used indoors as well as outdoors.
The Covacure Camping Hammock with Mosquito Net is another great product that can save you from all the troubles caused by mosquitoes while you are camping. It is a comfortable and reliable product as it is made up of a strong and breathable woven 210T Nylon fabric. It is lightweight and can be carried along wherever you wish to. The setup process is very easy and can be a perfect companion for backpacking and camping. The brand promises to offer a 100% satisfaction warranty, and if you are not happy with the product, you can get a full refund too.
If you love sleeping outside and enjoy the beauty of nature, this hammock and mosquito net by Sunyear can be a perfect option for you. It can help you offer protection from all the creepy crawlies and mosquitoes for a safe and comfortable trip. It is made up of high-quality 210T parachute nylon material which offers it a durable design. It can accommodate even the most demanding situations while you are at your campsite.
If you are looking for a lightweight and cheaper option, you might prefer buying Coghlan's Mosquito Net. Unlike other tents, it does not have a tent-like construction. Instead, it provides a cuboid and insect-free space for a peaceful sleep. It is a compact net that does not stand on its own and does not have the floor too. You will have to hang the top corners around the trees or something.
The Atwater Carey Mosquito Net can be a trustworthy companion while you are camping outside. It is perhaps the mosquito net that you can find in the market. The installation process is very simple, and you can finish it in a breeze. It provides a stand-alone shelter for a single person perfectly and does not even require any assembling process. The best part about this mosquito net is it is treated with an insect shield repellent which keeps the mosquitoes and crawling bugs away from you.
The REDCAMP Camping Mosquito Net is a great net for both single and double beds which is made up of premium quality 100% polyester materials. It comes with an adjustable string that can be easily hung from any tree branch. With an asymmetrical shape, it has a unique design that is loved by people. It is a lightweight and compact mosquito net that comes with a hanging rod and four plastic pegs.
These were our top picks for the best mosquito nets for camping. We hope these reviews help you with your next buy.
Related Links: