What is the most frustrating situation that you find yourself in? Is it that you got up late in the morning, rush for work and eventually find out that you have no idea where did you keep your car keys the last night? Or is it very usual of you to keep keys at random places and spend hours to look for it again? If you happen to find yourself in such situations quite often, you have come to the right place. The best solution for all your worries is to buy yourself an inexpensive key finder. It is a sound investment which will eliminate all your key-related worries.
To help you find one key finder, we have presented to you 10 best key finders that you can buy and bring some peace in your lives.
10 Best Wireless Key Finder Reviews
Key finders, also known as key locators are small electronic devices that help you find your lost keys and guides the users towards their lost items. Let's have a look at the best key finders available in 2019.
1. Cube Tracker Key Finder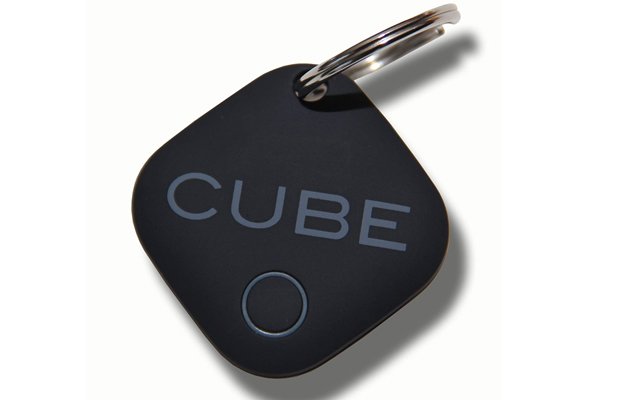 Losing items can be very easy but finding them again can take hours. With the help of Cube Tracker Key Finder, find your lost key in a jiffy. All you have to do is tag, ping, and locate it. Simple, isn't it? The Cue Tracker Key finder is a cool and innovative way of keeping track of your important things. You can attach this mini device to your keys, phone, or even wallet. If you lose your key, ping Cube with your phone and the device starts ringing. If you forgot your phone and if the tracker is attached to it, you can press the button on the Cube. Even if your phone is in silent, the phone will start ringing. The app also shows the last seen location on the maps. In short, it is a very useful device.
Pros:
The Cube Tracker is a waterproof device.
It helps you locate your phone with ring, flash, and vibrate notifications.
It works even if the app is not working.
The device uses Bluetooth to tell if the item is near or far and it rings if it is in the range of 100 ft.
You can even use the tracker as a shutter button for your phone's camera.
You get an extra battery with the package.
The battery is long-lasting.
Cons:
It offers a low range of comparatively.
The app needs to be worked on.
You might it a bit difficult while pairing it with your phone.
2. Tile Mate with Replaceable Battery
The Tile Mate is one of the best-selling Bluetooth trackers available in the market. The tracker helps you locate your lost keys or wallets using Bluetooth. It is a small device which is not at all bulky and is easy to carry along. The smartphone app is easy to use and helps you locate the device by playing the tone in a loud sound. A single-time charge can last for a year, and thus, you will not have to worry about charging it multiple times. The app is very functional and easy to use. It allows you to track the location history of the device so that you can get an idea of where did you keep it the last time. The best part about this device is you can even put it around your pet and locate their position.
Pros:
It is a mini and lightweight device.
You can use adhesives to stick the tracker to your phone or the key.
The tracker allows the phone to ring even if the phone is in silent mode.
It has a long-lasting battery.
The app is very easy to use.
You can check the last seen location on the app.
Cons:
It does not come with a replacement battery.
It offers a shorter range of comparatively (150 ft.)
You might face some connectivity issues.
3. Rinex Bluetooth Key Finder
Track your lost keys with ease with the help of the GPS Tracking Chip by Rinex. Not only keys, but the device also lets you track your lost phone, luggage, backpack, wallets, and luggage. De-stress yourself from always searching mode with Rinex's Bluetooth Key Finder as this tiny tracking device helps you find your missing device within seconds. This tracker allows you to optimize your time with a straightforward tracking mechanism to make your job effortless and quick. It is simple to operate and comes with a comprehensive manual. Whenever you lose an item, all you have to do is log in to the app, and it will sound the alarm, show the GPS location, and flash an LED light and you get the device within no time.
Pros:
It is easy to use the device.
It is very convenient.
It has a long-lasting and low-energy battery.
You connect your devices to the tracker in a jiffy.
You can even attach the tracker to your backpack or the collar of your pets.
The GPS tracking mechanism is very good.
It is a great gift for people who keep losing their wallet.
Cons:
The Bluetooth connectivity range is not that great.
The app needs to be worked on.
4. MADETEC Smart Key Finder
The MADETEC Smart Key Finder is an amazing key finder, and people love it for the amazing features that it offers. The device comes with a keychain which is durable and does not break down after a few uses. This keychain is easy to attach or detach. It is a great combination of six amazing features in one tiny device. The features that it offers are: smart anti-loss functionality, left phone alerts, one-touch find functionality, lost and found network, and group sharing. The alarm is very loud and sounds up to 90 DB. Thus, you don't have to worry about missing alerts even in a noisy environment. The MADETEC Smart Key Finders offers convenience in finding any lost items and designed very beautifully.
Pros:
It is a small and well-designed device.
It offers a smart anti-loss feature.
It gives you the left phone alert.
It allows One-Touch Find Feature.
It also allows Group sharing, which most of the key finders don't offer.
It comes with a tiny keychain which can be tucked anywhere.
The battery life is decent.
It is an affordable device.
It is easy to use.
It offers a loud tone.
It can be a major time saver.
Cons:
It doesn't come with a replaceable battery.
It offers an average range.
You cannot adjust the distance range of the alarm sensitivity manually.
5. Key Finder Pair, Indisputably the Loudest, Long Life Replaceable Battery, High-Impact Polycarbonate Case, and Two-Year Warranty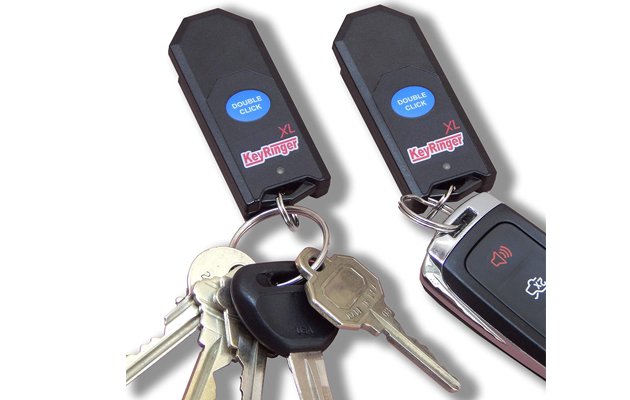 This another amazing key finder has the loudest tone indisputably and comes with factory installed lithium batteries. These batteries are replaceable and have a long life. The device is made up of high-quality materials and is extremely durable. It is a very reliable device and can be attached to the items which you tend to lose most of the times. It can be easily paired with other devices. This amazing key finder is designed in California and thus, is protected by two patents. With the two-year manufacturing warranty, this is one of the most reliable key finders in the market.
Pros:
The device is extremely loud.
It is extremely durable.
The battery is long-lasting and replaceable.
It offers a wide range of up to 300 feet.
It includes two Key Ringers.
The device is ready-to-use as soon as you take it out from the package.
No setup or programming required.
It offers a warranty of two years.
If you cannot find the device, you can even look for it on the Key Ringer's website.
Cons:
It can be painfully loud sometimes according to some users.
It is a bit costly.
6. Tile Sport – Key Finder. Phone Finder. Anything Finder (Graphite)
The Tile Sport Key Finder is one of the most powerful and durable trackers which helps you easily find lost items, no matter where you are. It is a durable and reliable device and supports you, wherever life takes you. You can now find your lost items with the help of your phone. If the tracker is within the Bluetooth range of 100-foot, the device plays a loud tone until you find it. With a double press, the phone also starts ringing, even if it is in silent mode. The app lets you see the last seen so that it becomes easier for you to remember where did you keep the lost item the last time. It has a special community where all the Tile Key Finder users are a part of it. It is one of the world's largest lost and found community.
Pros:
It is a powerful device.
It is extremely durable.
It is reliable and offers the correct GPS location.
The app lets you check the last seen location of the missed item.
It offers a great Bluetooth range.
It is easy to use.
It is a lightweight device and is waterproof.
The app is nice and fluid.
It is well designed and looks great.
Cons:
The battery is not replaceable.
The set up is a bit complicated.
It drains the battery of your smartphone.
7. H+LUX Key Finder
The H+LUX Key Finder is a Bluetooth Smart Key Finder which can be of great convenience in the location your lost items and saving your time in doing that. The key finder comes with a convenient hole which allows you to tag it to your essential items which you often tend to misplace. You can even tag it around your pet's neck. The smartphone app allows you to track the device and as soon as the item goes beyond the range of the Bluetooth finder, an alarm starts beeping. However, you can turn this to silent mode if you don't want such alarms. It offers a range of 10-20 meters indoors and 30-40 meters in the outdoors which is quite decent.
Pros:
It has a long-lasting battery life.
It offers a Smart Anti-Lost Alarm which starts beeping as soon as the device goes out of the range.
It offers a decent range.
It is a very convenient device.
It is a perfect gift for your forgetful family members or friends.
The app and the device are very easy to use.
You get a free stylish keychain along with the tracker.
The set up is a very easy process.
It has a classy design and a pleasant tone.
Cons:
Some users complaint that the sound is quite low. It can be improvised a bit.
8. Bari Key Finder
The Bari Bluetooth Tracker makes sure that it keeps you away from all the unnecessary troubles of searching for your missing keys, pets, wallets, luggage, etc. It is a tiny and lightweight device which fits in anywhere and is easy to carry around. It has a two-way tracking mechanism which helps you track and locate the lost item with a Bluetooth 4.0 technology. Whenever the item goes out of the range of the Bluetooth, the tracker starts ringing, vibrating and flashing to keep you posted about the whereabouts of your device. In short, it is a very useful device in tracking your missing items.
Pros:
You no longer have to worry about missing keys with this amazing key finder.
It is very easy to use.
It is a compact and lightweight device.
It offers two-way tracking mechanism.
It gives you real-time notifications of the whereabouts of your product.
The app is user-friendly.
It has a great customer support team.
Cons:
It is not made up of high-quality materials.
You do not get a replaceable battery along with it.
9. Key Finder Upgrade by Calerix
With a stronger signal and loud sound, the Calerix Key Finder offers a progressive performance. The device enables you to find lost devices using a companion app with iOS devices and Android devices. The tracker comes with a built-in speaker, and you can activate a 98-dB alarm. This magical key finder is an app-enabled tracker that uses your smartphone for two-way security. You can also activate the anti-lost mode where the device starts beeping when the device crosses the range. It offers an impressive tracking range of 30 meters. You can attach it to anything as it is very conveniently designed and can be hooked to any of your valuables. It offers a GPS Tracking System which can be used with a child's safety, especially in a crowd.
Pros:
It is an updated model with a stronger signal.
The tracker has a built-in speaker to offer maximum sound.
It has a long-lasting battery.
It offers Anti-Lost Mode.
To offer enhanced safety, it has a GPS Tracking System.
It doesn't have connectivity issues.
It is a thin and lightweight device.
It offers accurate information.
Cons:
10. Life is Smart Key Finder Black
The Life is Smart Key Finder is a quick and effective key finder that reminds you of the location of the valuables that you tend to forget every time. It is aimed to make your life simpler and not waste your time searching for your things. It is simple and easy to use the gadget. If you lose any of your items, the iTrack network helps you find it within no time. All you need to do is mark your item as "Lost" in the app and then the key finder will send a Beacon signal. This scans the GPS location, and soon you will be able to get to know the location of your lost item.
Pros:
It is a quick and effective device.
It is a tiny and lightweight tracker.
It is very easy to use.
The app is great too.
You can track the location of the device in the app.
It can be a perfect gift for someone close.
Cons:
Key Finder Buying Tips
Before buying a key finder, you can keep the following things in mind:
These devices must be compact and lightweight so that you can carry it with you.
You must always go with the replaceable battery options and must offer a long-lasting battery.
It should offer a loud sound.
It should offer a good range.
It should be compatible with other devices too.
How Far Can A Tracker Track?
A good key finder must offer a range of around 60 to 70 feet.
We hope these reviews help you find the best key finder for you.
Related Articles