If you are a fan of Nintendo Switch Games, you totally understand why is it so much hyped in the market, don't you?
For all those who are new to it, let us tell you that it's absolutely worth the hype because it is an amazing game console, especially for starters. It is relatively young (only two years old), yet it is known for its portability. Thanks to its built-in 6.2-inch HD display, it provides a great display experience. The beauty of these switch games is you can play them even on big screens.
It offers a perfect combination of motion gaming thereby allowing multiplayer action. You don't even need an extra controller as it has special clever Joy-Con controllers. These controllers clip onto the side of the display.
Thus, if you wish to join the great Nintendo Switch Games revolution, we are mentioning some of the best games for you to experience and play. Consider these as the must-haves for the Nintendo Console that you have.
Now play your heart out with these switch games!
10 Best Nintendo Switch Games That You Need To Play
1. Nintendo Switch Mario Super Smash Bros. Ultimate
The Mario Super Smash Bros Ultimate is one of the most beloved games in the entire collection with more than 70 characters offering a really long series of 1000 stages. It offers a huge array of features. It has a single player mode but it is always fun to play it with a group of friends and it will surely give you a chaotic brawl of your imagination. Bonus – it has an amazing music player.
Unlocking all the 74 characters is more or less like a convoluted process which requires a fair amount of time and difficult CPU opponents. Whenever you unlock a character, you get a reward. Interesting right?
Let's check out some pros and cons of this game.
Pros
It has many characters, and you can play it with as many players you want. Thus, everyone is there in a single game. Thus, it's awesome.
It looks great on Nintendo Switch as well as on the TV.
The sound system is mind-blowing.
With every passing stage, the game becomes more interesting.
It has amazing controllers.
Cons
Since it is an amazing platform, a lot is being expected. And when compared, the game needs to work on its online modes. It is not that impressive.
2. Pokemon: Let's Go, Pikachu – Nintendo Switch
The Let's Go, Pikachu Pokemon Nintendo Switch is one of the most streamlined entries in this franchise till date. With the availability in Pikachu and Eevee flavors, what else do you expect?
It is a very lovely role-playing game which is slightly different from other games which also involves role-playing. It is simple yet interesting and thus, is a perfect choice for veterans or beginners. It includes simple Poké Ball throwing mechanics of the Pokemon Go, which later goes switching the characters. Ultimately, the goal is as simple as that – you gotta catch all the balls. IT is a fun game to play no matter you are playing it alone or with a friend.
Let's check out some pros and cons of this game.
Pros
It is the best choice for the beginners or the newcomers.
It has a bright vision of Kanto which is fun exploring.
The catching mechanic is a new addition, and no doubt, it is amazing too.
The Pokemon character is really adorable.
Cons
Players complain that after a while, the turn-based battles become a bit boring or stale.
It is a remake of Pokemon Blue, Read, and Yellow. Thus, there's not much of a difference.
3. Nintendo Switch Battle Royale Fortnite Starter Bundle
The Nintendo Switch Battle Royale Fortnite Starter Bundle is one of those Epic Games which is capable of creating an engaging twist of the battle royale genre. It not only stands out from the competition but is almost head and shoulders above them.
Its special frostbite outfit gives the characters a wintry design. It also has special Chill-Axe Pickaxe weapons that let you attack your enemies with full power. The Cold Front Glider and the Freezing Point Back Bling are also some of the additional features that are loved by the players.
Let's check out some pros and cons of this game.
Pros
If you are fond of gunplay, you will love this game.
You can either play it either or with your friends. It is fun both the ways.
The game looks bright and colorful.
To make it different from other games, it has special buildings that provide a different angle to play.
The game encourages cooperation.
It is affordable.
Cons
You might face some balancing issues in between.
Some players find the buildings annoying.
The controller is not that great as expected.
4. Octopath Traveler – Nintendo Switch
The Octopath Traveler is sure to give you a bold and emotional experience with a total of eight characters. You might find it a bit daunting in the beginning. As soon as the game starts, you will have to choose one from the eight protagonists, and thus, the game continues with the team that you chose. With every turn, the game becomes more nostalgic. The game has some retro influences which make the game more exciting.
Let's check out some pros and cons of this game.
Pros
The combat system is fun and easy to access.
There are many characters, and all of them are designed perfectly.
The game offers a lot of variety.
It offers an amazing soundtrack.
Cons
The grinding session is not for everyone.
The opening hours might be a bit slow.
People don't find the retro influence very positive.
5. The Legend of Zelda: Breath of the Wild – Nintendo Switch
Ever since the release of The Legend Of Zelda: Breath Of the Wild, there's no stopping to this switch game. Its sense of adventure is just another level. It gets you into a mysterious world where your next challenge is to survive in such condition. The world is very big for the players of this game as it might take even months to finish the stages.
Let's check out the pros and cons of this game.
Pros
It is a masterpiece of modern game design.
The game looks beautiful.
The game becomes more interesting as the stages pass.
It is one of the best in the line of the mysterious games.
The art direction is very pro level.
The stages are a bit difficult, but you will enjoy passing each stage.
Cons
The voice quality is not that great.
You might face some minor performance dips.
6. Donkey Kong Country: Tropical Freeze – Nintendo Switch
Not many people liked this switch game when it was launched some four years ago. But the way it has improvised, it has become one of the best switch games by Nintendo. It has amazing visuals which look very sharp and pleasing to the eyes. Thanks to the Joy-Con, it supports the two-player feature.
One thing that is disappointing is, before you start playing the game, you are given an option of choosing the difficulty level. Throughout the game, you cannot change this difficulty level which is a bit annoying because you will have to struggle with it until the end of the game.
Let's check out some pros and cons of this game.
Pros
There are many characters, and each character has something different to offer.
The levels are fun to play.
One good part of this game is if you are not able to pass any stage, you can skip it.
Cons
Even though the levels are fun to play, they are unfairly difficult.
The controllers are not that great.
The sense of flow could have been organized in a better way.
The levels are too difficult. The makers could have made it a bit easier.
Once you select a difficulty level, you cannot change it.
7. Hyrule Warriors: Definitive Edition – Nintendo Switch
The Hyrule Warrior is an amazing switch game which makes sure to give you an exhilarating experience in the Zelda Universe. It has 29 characters and includes various maps and mission with each level. It allows you to customize the characters which add to its uniqueness. It also has many weapons and rewards which makes the game more interesting.
Let's check out some pros and cons of this game.
Pros
It is really fun to play.
It combines both the licenses pretty well.
It offers a surprising depth to the combat.
The Co-op is right out of the box.
It has many characters, and you can customize them.
Cons
The longer sessions make you feel tiresome sometimes.
The frame rate keeps dipping during hectic sequences.
8. Sid Meier's Civilization VI – Nintendo Switch
The Sid Meier's Civilization VI is a brilliant game on the switch. With its special touch and Joy-Con controllers that makes it easy to use for both docked mode and handheld mode. It doesn't allow you to play online, which is disappointing. In spite of this, the concept of the core game is fantastically made.
Let's check out some pros and cons of this game.
Pros
It has amazing content which doesn't let you feel bored throughout the series.
It gives you a great Civilization 6 experience on Switch Games.
It provides a good middle ground between PC and mobile.
Cons
It doesn't support online playing.
The tutorial is difficult to understand. Thus, if you are new to this game, you might have to struggle with it.
9. Mega Man 11 – Nintendo Switch
Capcom released Mega Man 11 in October 2018. Within a short span of time, the game has gained immense popularity. It offers a new and visual style that refreshes the series' and provides a colorful experience with its detailed 3D characters.
Let's check out some pros and cons of this game.
Pros
The creativity at each stage is just amazing.
The difficulty level is balanced and manageable.
Cons
Since they have tried to maintain a mediocre difficulty level, some players find the stages way too easy.
You need to know the basics of the game properly to make the most out of it.
10. Warner Bros Fortnite: Deep Freeze Bundle – Nintendo Switch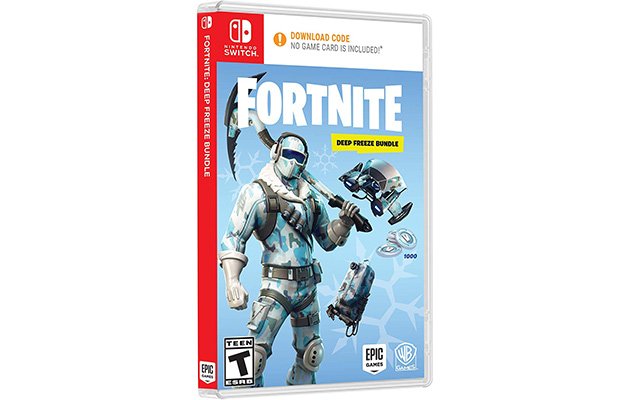 Add new content to your Nintendo Switch Games with this Deep Freeze Bundle game. The game has some amazing outfits and Chill-Axe Pickaxe weapons that allows you to attack your enemies. The outfits give your characters a wintry and amazing design to your character making it more fun. The switch game bundle includes Cold Front Glider, Chill-Axe Pickaxe, 1,000 V-Bucks, and Freezing Point Back Bling.
Let's check out some pros and cons of this game.
Pros
It looks amazing on both Switch and TV screen.
There are plenty of guns and weapons available which are fun to use.
It allows multiple players.
It is extremely fun to play.
Cons
The difficulty levels are another level.
You might face some performance related issues in certain areas.
As time is passing by, the Switch is becoming one of the most successful systems by Nintendo. The games are fun to play. Even though figuring out which game is a bit difficult task, we have tried to make it easier with the help of these reviews. We hope you purchase the best one (or maybe more than one!) and enjoy playing it.
Related Articles: